Problems with the numbers, LEED certification gaining momentum, listed as possible factors
A new report by the U.S. Green Building Council recently listed the top 10 Leadership of Energy and Environmental Design states—Oregon was not one of them. Seven spots from where it finished last year, Oregon placed 12th on the list.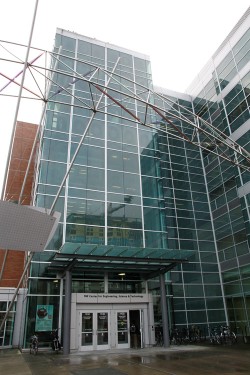 Christina Williams, from Sustainable Business Oregon, called it an "embarrassing whiff for the state."
Some notable Portland firms are taking exception to the study, which ranks states by LEED square footage per person. The claim that square footage numbers can be a little tricky is warranted when you look closely at the numbers.
Chris Forney is the director of expansion markets with Brightworks in Portland. He worked on the Lincoln Hall restoration at Portland State, the 100th LEED certification project that Brightworks had taken part in.
"It's an interesting article and something we take notice of, being proud Oregonians and feeling good about ourselves on a national stage. Looking at that list we had to do some head scratching," Forney said.
The District of Colombia placed at the top of the list. With 18,954,022 square footage of LEED certification, it nearly doubled Minnesota, the 10th place finisher.
LEED is quantified in two ways: new construction and existing building restoration. Buildings can be awarded silver, gold or platinum efficiency. The emergence of existing buildings operation and maintenance has opened up millions of more square footage to achieve certification, according to Forney.
"December 2011 was the first time there was more existing building square footage than new construction. LEED existing buildings had certified as much square footage as new construction in the last 10 years. That's especially true in large commercial real estate markets: Chicago, New York, L.A.…In the case of Illinois, it is largely driven by existing buildings," Forney said. Illinois was third on the top 10 list.
Forney looks at state gross domestic product as an indicator of where a state is in correlation to LEED instead of looking at square footage per capita. In this case, with respect to GDP, Oregon is directly in line with LEED buildings. Forney's example of D.C.'s population of 600,000 to Oregon's 3.8 million makes that point.
Sara Costello, vice president of development and communication of Cascadia, another Portland sustainability firm which has collaborated with PSU, believes Oregon has a lot of capacity for very advanced LEED projects, particularly LEED platinum. Her organization also created the Living Building Challenge, a compliment to LEED. To receive this honor, buildings must be completely net zero energy, must capture and treat all water on site and must be made of non-toxic material.
"The best known project which hasn't started construction is the Oregon Sustainability Center—that's a project that PSU is formally involved in. The OSC would be a large, 14-story building in the university district. There's also a small project in North Portland, June Key Delta Community Center, that is pursuing the Living Building Challenge. In order to achieve certification, it has to achieve a full year of occupation," Costello said.
For its part, PSU has eight LEED-certified buildings: Epler Hall, Broadway Hall, Research Green Houses, Engineering Building, Shattuck Hall, the Academic and Student Recreation Center, Lincoln Hall and Science Building II. Though there is no funding for any new LEED buildings at this time, Neuberger Hall is next in line for a renovation.
Jennifer Sharp is a construction project manager with the facilities department at PSU. Regardless of the way it's reported, she doesn't see Oregon's fall from the top 10 LEED states as a bad thing.
"It's a sign that other states are finally engaging in the process of sustainable building. It is particularly impressive that the projects they note in the press release come from all market sectors; private, K-12 and higher education, government, nonprofit. It has effectively become mainstream," Sharp said.
Forney, proud of the more than 100 development projects his company has done, agrees.
"Oregon has been in the forefront. We were at the forefront to prove it was doable in the first place. We're definitely proud of that heritage. In reality it was only a matter of time before LEED hit the mainstream and that bigger markets would supersede Oregon," Forney said.