Lemelson Foundation grant to help MESA expand programs across Oregon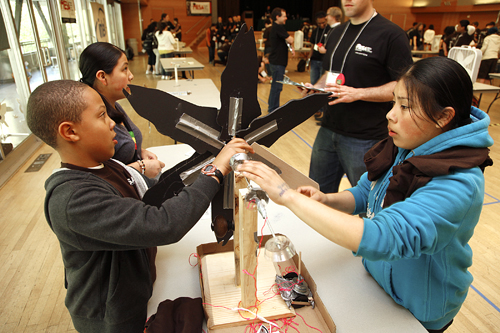 Oregon Mathematics, Engineering, Science and Achievement recently received a $216,000 grant from the Portland-based Lemelson Foundation to expand its focus on invention education. MESA programs provide early pathways for the next—and future—generation of engineers and scientists, giving support and tools to Oregon middle and high school students. Its programs teach students in the early stages of their educational careers about degrees that could help them pursue work in the engineering and science fields.
This most recent grant from Lemelson is actually the third grant awarded to Oregon MESA and will support expanding its curricula to other schools in the state, creating new invention-based programs that solve global issues, training new teachers and mentors and funding the annual MESA day competition. The grant, which will be dispersed over the next three years, will also be used to develop new curricula each year.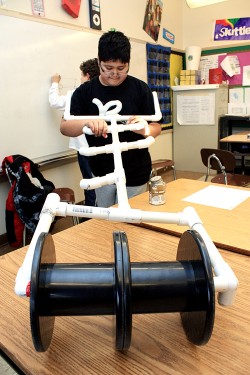 Invention education focuses on the practical application of science, engineering and mathematical concepts. Programs that encourage it, like Oregon MESA, allow students to develop solutions for real-world problems.
"Invention can create change, and it is at the root of economic well being and the quality of life enjoyed in the developed world today," wrote Erin Tochen, program officer at the Lemelson Foundation, in an email.
David Coronado, executive director of Oregon MESA, said that school doesn't adequately teach invention education to students. "Schools focus on content education, which is important, but does not give space for students to be creative," he said. "Creativity is important. When we lose that edge in creativity, innovation dies. If you look at the biggest inventors, they were not classically trained; they just had an abstract mind and could think in that type of space."
Housed at Portland State under the Maseeh College of Engineering and Computer Science, Oregon MESA aims to train and teach the next wave of scientists and engineers. This is especially important because, according to Coronado, there will be an extreme shortage of people in these professions as many of them retire in the next five years. As a result, said Coronado, the U.S. could fall behind in the high-tech industry.
Oregon MESA targets pre-college students in under-funded schools to improve and build proficiency with math, engineering and science and to improve rates of college entrance and high school completion. "Our goal is to educate other programs in under-served communities about invention education," Coronado said.
According to Tochen, Oregon MESA partners with several other MESA programs nationwide, giving the curriculum put out by the program the potential to impact 17,300 middle school students and 16,200 high school students.
The program helps stimulate out-of-the-box thinking in students by working with them to design low-cost solutions for problems in developing countries. "We connect students with personal stories and issues that are important," Coronado said. "We find that many students really want to help people. We show that inventions can really improve people's lives and have a significant impact."
Oregon MESA builds critical thinking skills, mentoring skills and shows the students it serves how to give back to their community. It also aims to close the gap for disadvantaged students and to create diverse and inventive individuals, Tochen said. It also allows PSU students and professors to serve these students as mentors and collaborators.
"Along with Oregon MESA, the Lemelson Foundation's hope is that these students begin to see themselves as innovators and problem solvers, and more creative and emphatic citizens," Tochen said. "Oregon MESA is contributing to a campus environment that supports creativity and inventiveness," she added.
An example of a project that Oregon MESA is thinking of undertaking, according to Coronado, is finding a low-cost solution to reduce infant mortality in developing countries with high rates of infant mortality. A simple solution to develop something similar to a heat lamp that would warm infants could be as cheap as $20.
According to Tochen, Lemelson chose Oregon MESA to be the recipient of the grant because of its clear connection to invention and hands-on application of science, engineering and related fields and its potential to influence other MESA states. The assistance it provides to developing countries by creating solutions was also ideal.
"Oregon MESA does an amazing job of connecting the next generation of inventors with the toolkit that will let them build upon their math, engineering and science skills in creative, hands-on ways to identify problems that impact lives," wrote Carol Dahl, executive director of Lemelson, in an email. "The program is an opportunity for these students to begin asking the kinds of questions that lead to solutions to today's biggest problems."
MESA is a national program that began in 1970 and branched out to different areas of the U.S. It came to Oregon in 1989 and now serves approximately 49,000 students nationwide.
The Lemelson Foundation was established by prolific inventor Jerome Lemelson, who believed that invention played an integral role in the economic well being of the nation and that new innovators needed to be trained to continue the vitality of the nation. This vision was expanded to taking invention to countries that need it most to improve lives.