Looking for a safe space to share your writing publicly? Or somewhere to be with other creative people? Portland Lit Mic gives seasoned and aspiring writers of all genres the opportunity to share their work, an event met with outstanding community engagement.
When Portland State students and Portland Lit Mic co-hosts Jordan Marzka and Grace Lawrence took the stage to welcome the audience to the event's first anniversary on April 14, Rose City Book Pub approached the point of standing-room-only. You could tell right away how the crowd which gathered there once a month had become familial, growing with each session hosted.
Some of the evening's readers were regulars or returning to Lit Mic. "We used to have to beg people to put their names on the sign-up list, and Jordan would spend the first half of the night making jokes about it," Lawrence said. "Now for the past few months, we've barely had the list out for five minutes before it fills up and have consistently had to use a waitlist for backups. It's amazing that there's such a desire to read and that people especially want to read at our event. It feels nice to make that space for people, and clearly, it's a need!"
The pub felt welcoming and cozy. Stationed in a back corner of nearly floor-to-ceiling bookshelves were fabric-covered chairs, groups of smaller diner-style tables, benches and booths bunched together and sofas in front of the stage. Patrons leaned against the bar with their drinks and squeezed together on the couches for a front-row view.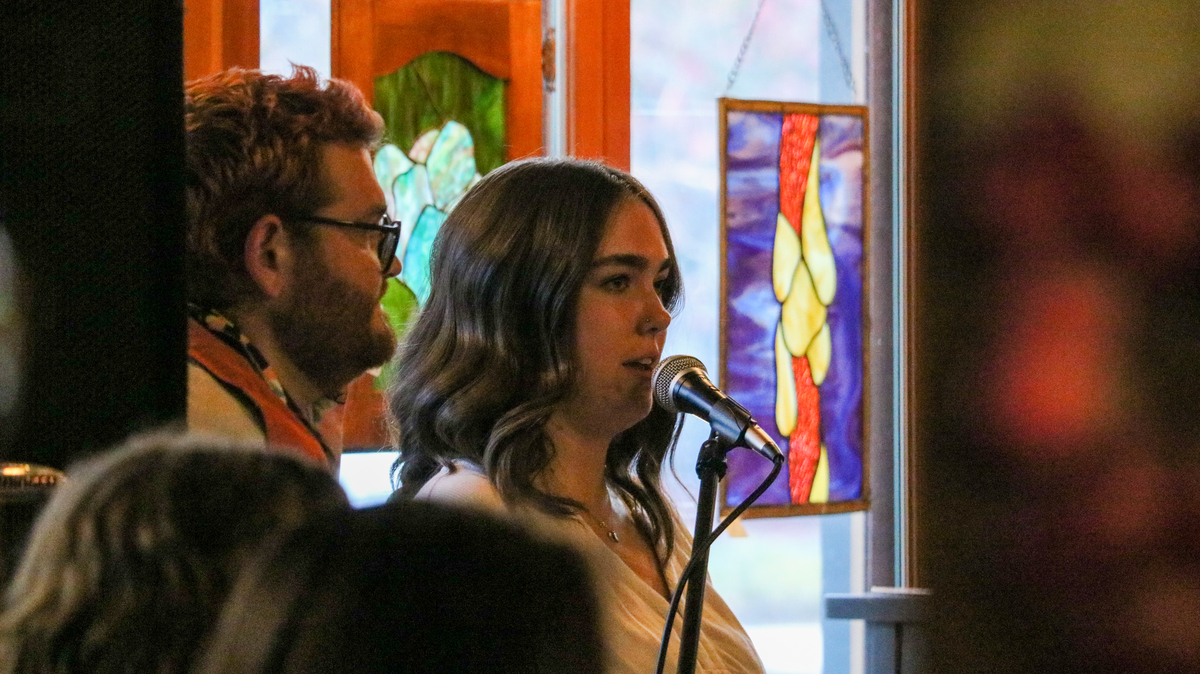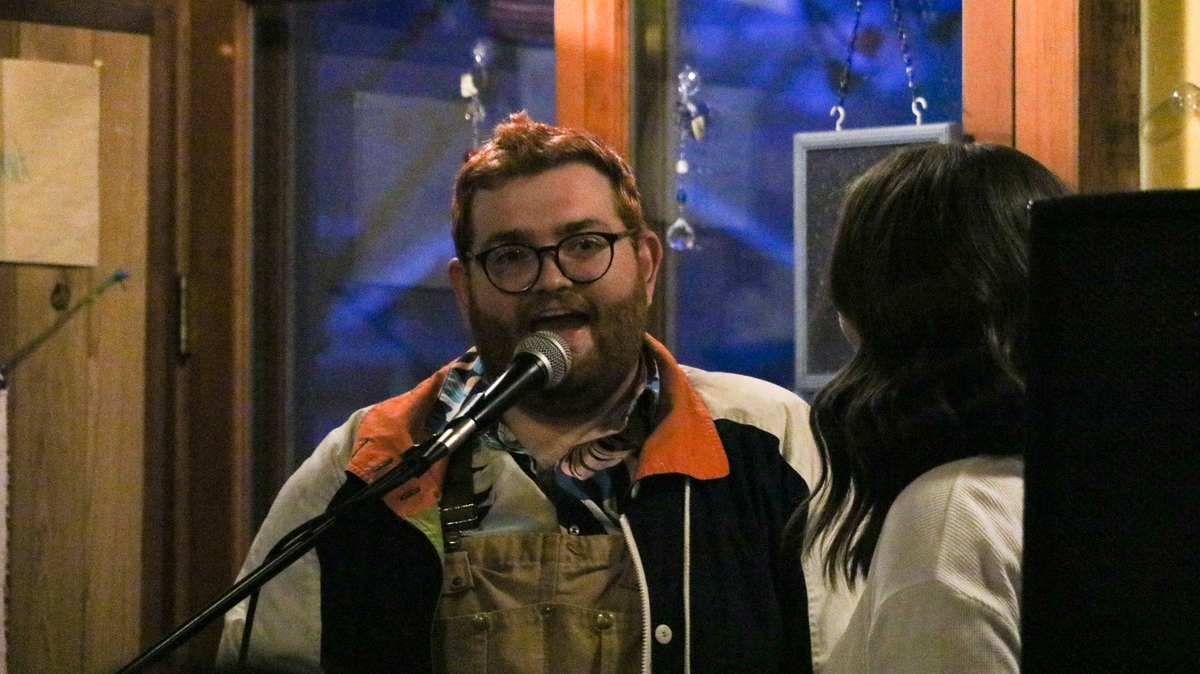 Amid the readings, attendees could peruse the pub's shelves, which were filled with books, magazines, chapbooks, locally-crafted jewelry, postcards, art prints and more.
"Rose City Book Pub has been the most wonderful setting for Portland Lit Mic, most importantly because the owner and our now dear friend Elise has created a space that fosters community and inspires," Lawrence said. "Within its walls—overflowing with books, handcrafted art and family-style benches—you are bound to find your people, as so many of our readers have."
The idea for creating the event came to fruition after Marzka and Lawrence attended a virtual poetry open mic together. "We agreed that our writing felt out of place within the 'traditional' poetry open mic, which the dominant genre is slam poetry," Lawrence said. "We wanted a place where we could read whatever we had written, whether fiction, nonfiction or poetry. Instead of searching the Portland literary scene for that place, we decided to create it ourselves."
They've been welcomed by the local writing community with open arms. "[It's] still a little unreal to us," Marzka said. "We used to joke about what we would do if no one showed up to the event, but every month the support has been so overwhelming. Our event is the way it is because of the buy-in from the community, and you can see how their enthusiasm and care for each other shapes what we do."
The Lit Mic started with a briefing from the hosts on house rules and proper audience etiquette for readings. One of the most nerve-wracking aspects of sharing work in a public setting is the presence of a live audience responding to your words in real-time and in front of you, the creator.
The hosts acknowledged this anxiety and the bravery it takes to participate in a live reading. Next, Marzka asked the audience to maintain a leveled response to each performance, giving each reader an even volume of applause and cheers.
Portland Lit Mic observes a five-minute limit for each reader. However, they can share as many individual works as they wish within the time allotted. Sign-ups operated on a first-come, first-served basis, opening at 6:30 p.m. with the show beginning at 7 p.m.
While some events include themes for writers to factor into the work they choose to share, Portland Lit Mic is open to any subject, literary genre and writing format. Their flyers promote the event as "utterly themeless."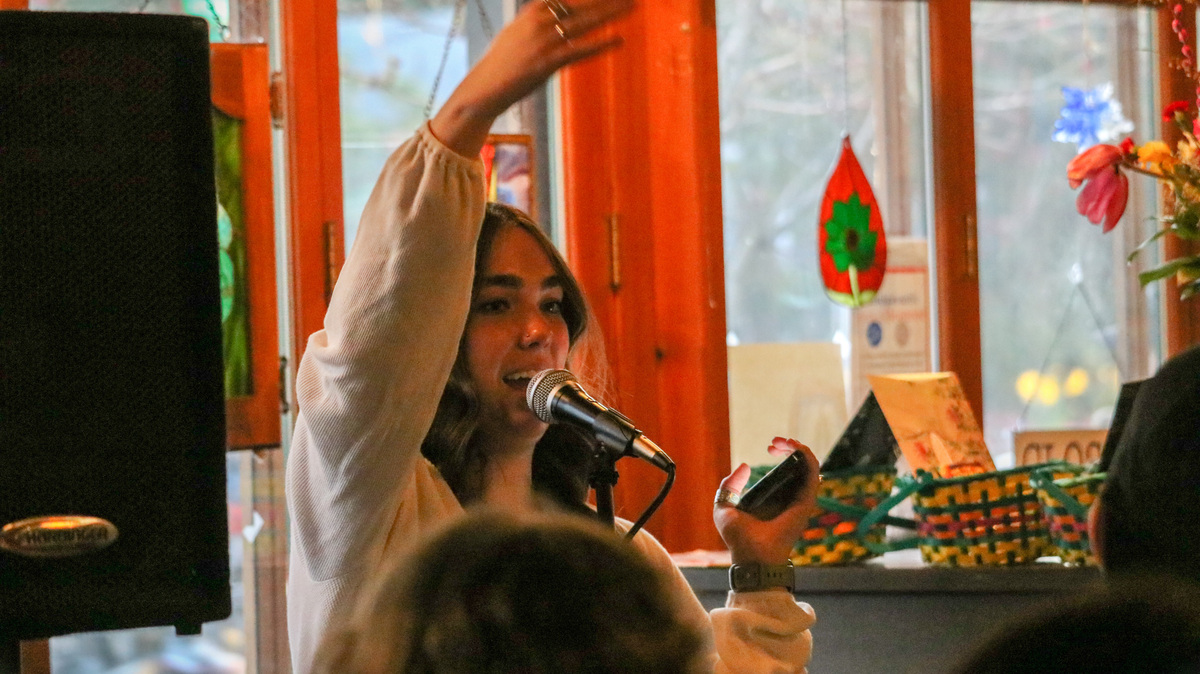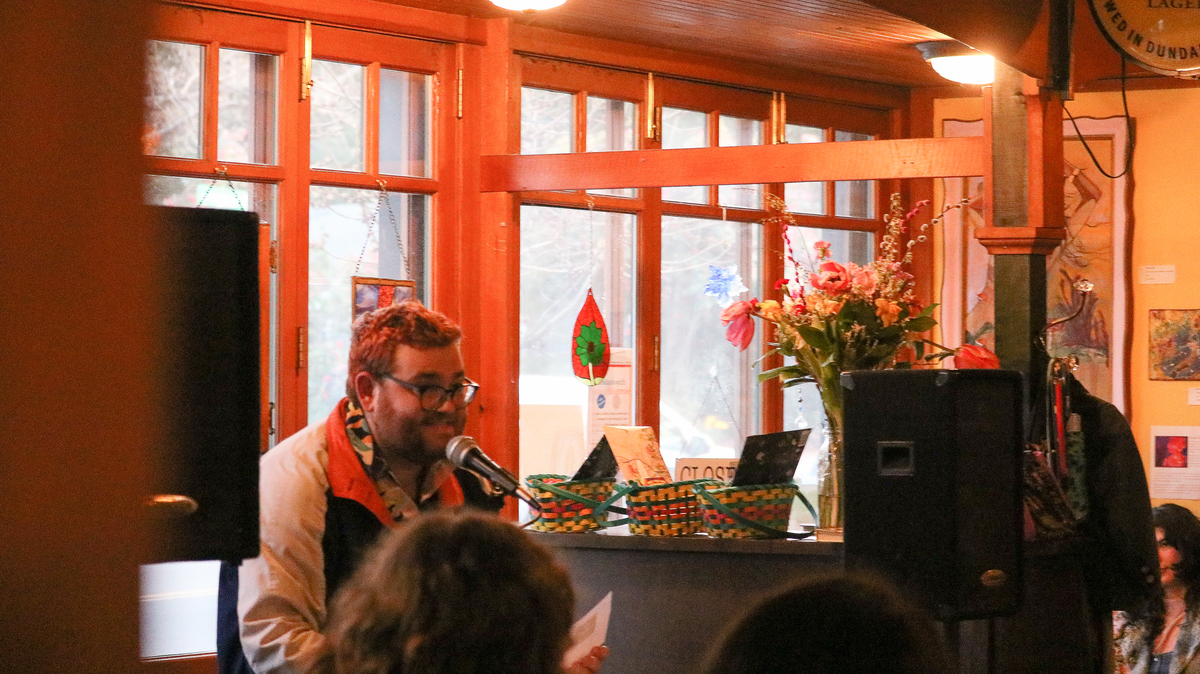 "We decided to continue with a no-theme format to encourage our readers to embrace the motto that started [the] Lit Mic: 'You wrote it, you read it,'" Lawrence said.
Attendee and writer Danielle Alexander shared a few nonfiction essays and a poem at the recent anniversary reading. Yet another attendee, Skelly Harrington, read the first chapter of a book in the dark fantasy horror trilogy they will be releasing this year.
"The way Lit Mic invites a variety of literary styles also invites diversity of people and content," Harrington said. "Open mics with a more narrow focus can run the risk of homogenization. When you go to Lit Mic, you're going to hear people do things that you can't do and tell stories that aren't yours to tell, and that's good for us as artists and as people."
Intermission was called halfway through the readings. Because of how solitary writing can be, Marzka encouraged people to use the break as a chance to socialize, meet and get to know the people around them—a moment readers took advantage of.
Alexander's appearance at the Lit Mic for its anniversary was her third. "Each time [I come to Portland Lit Mic], I am delighted by the environment and community that is created," Alexander said. "After the first Lit Mic, I actually met three other writers who I'm now in a regular workshopping group with."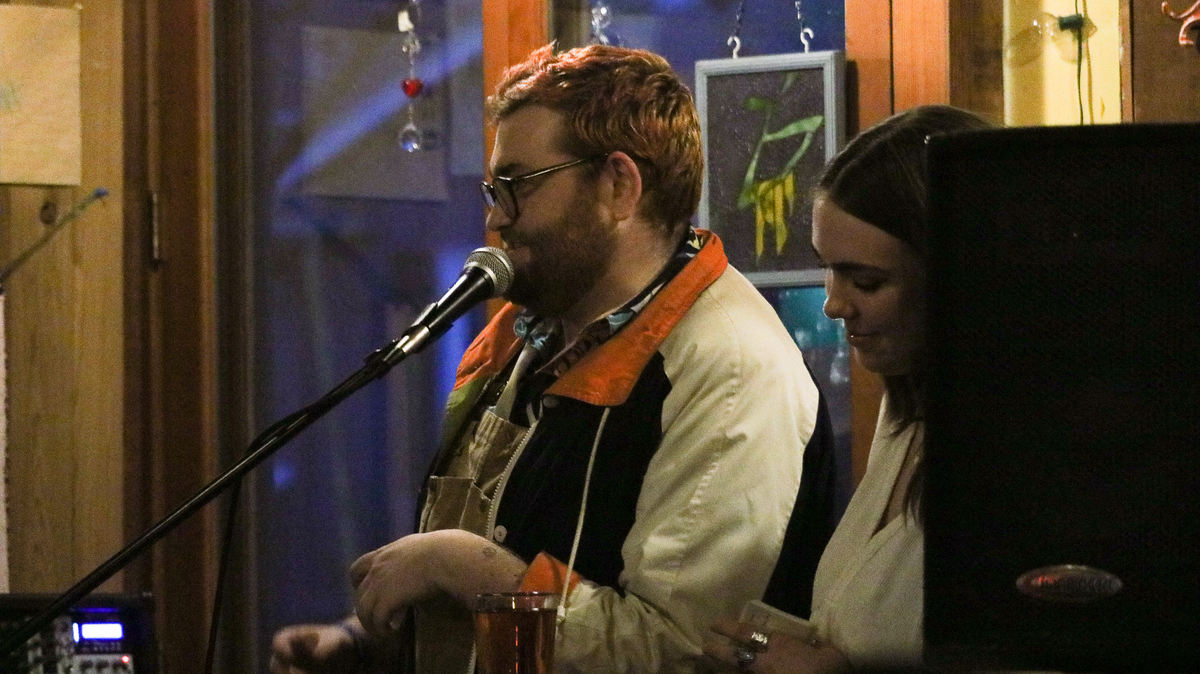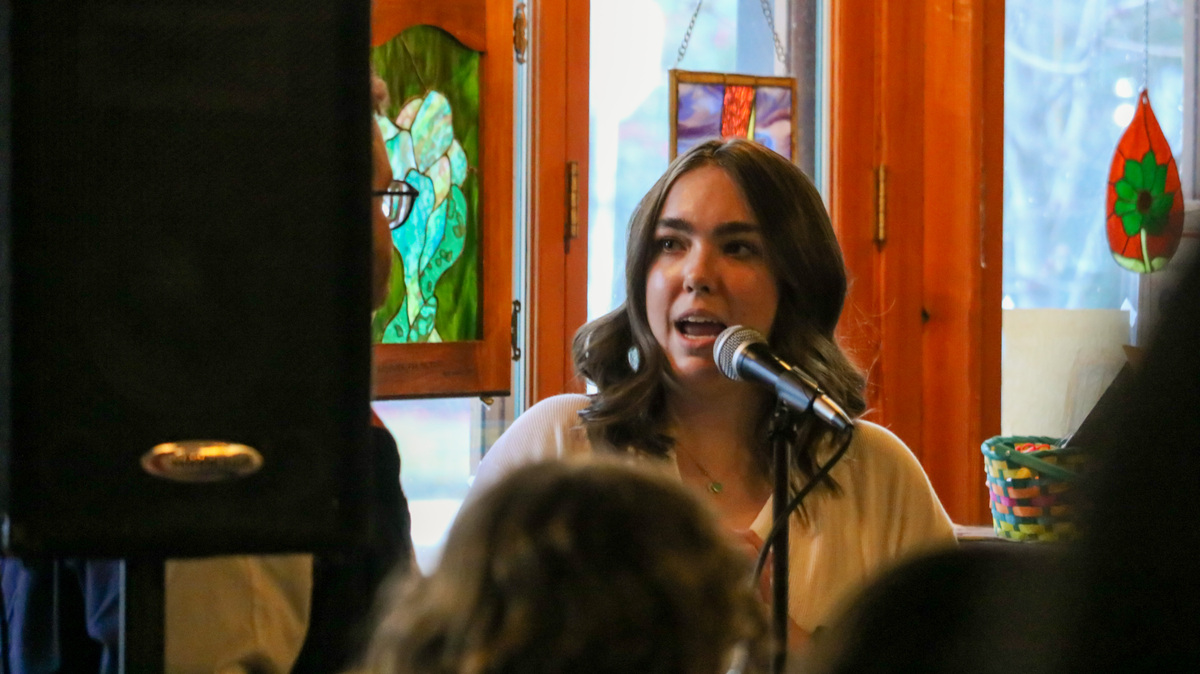 Intermission was also an extension of the night's activities. The Lit Mic's anniversary promised and delivered writing challenges for attendees, allowing anyone not signed up for the reading to join in on the fun. Patrons submitted their responses to a flash-fiction prompt with a prize given for the audience's favorite. Awards also went to the winners of a fast-paced haiku competition, with volunteers being split into teams and squaring off against each other.
"We spend a lot of time asking ourselves what we think the community wants next," Marzka said. "Grace is a master at Instagram polls and keeps our guests centered in planning conversations. We pride ourselves on keeping the energy upbeat and entertaining over the course of the night, so most of the work we do is just in showing people that it's okay to have fun and relax. I think this is especially important for the people who come to Lit Mic and have never read their work out loud before. We like to get up there and show them that yeah, we're all having fun and that they're going to have fun too."
Moving forward, Marzka and Lawrence are grateful for the community response and its support in the event over the past year, and they plan to host more Lit Mics and maintain an environment for writers to socialize and share their work.
"I think we've both learned that breaking into the literary arts community is so much easier than we thought it would be," Lawrence said. "There was a lot of fear that we'd never find a way to get out there and build that community, but I think everyone else is just like us, searching for a way to connect to the writers in their city. When you put that energy out into the world, people can't help but give it back, and suddenly you have this community that all cares about one another."