Spoiler Alert: Brief novel narrative described, and some book quotes included.
Hazel Jane Plante, writer, musician and podcast host, is close to publishing her second novel, a trans femme fictional, double-sided memoir of the life and times of Tracy St. Cyr.
Plante has an MA in English, has studied experimental poetry and enjoys taking chances and doing things differently. She described her novel as a palimpsest, writing over the top of distant and recent trauma. "[It is] much less vulnerable to have it couched in fiction," Plante said.
Plante is innovative in her ability to evoke emotional resonance, how it feels to be in a body and be conscious and present. The book shows how sometimes we only show people what we want them to see, but there is much more complexity beyond the external façade of a person.
In her novel, Any Other City, set to be released on April 18, 2023, the past and present selves ripple into each other, interwoven like fabric. The cover seeks to highlight this element. Plante described the book cover art as overlapping lives, layered with snakeskin, bird feathers, leopard skin and cobblestones having openings—a labyrinth and a maze of layers, like our lives, woven together.
In terms of style, the book is notably untraditional. It has no narrative arc, no antagonist and no dénouement. Some might say it is more like an Oulipo, a French literary movement focused on constrained writing styles, than a traditional novel—cerebral, surprising and sometimes uncomfortable.
One distinctive feature of the book is its musical and lyrical focus. Most of the bands and music in the novel are fictional, but like many authors, Plante drew on her own life and past for inspiration. For example, the band name Lubricated Sagan in the book is derived from Plante's high school band's name.
Moreover, Plante is currently a member of a band called Certain Women, and they perform at least one of the songs mentioned in her book, "All the Pretty Ghosts," which reiterates the message of love. One of the fascinating features of the novel is hearing how Tracy constructed the lyrics and music for her songs. For example, Tracy detailed the song-smithing process while composing a song expressing her feelings after a recent breakup.
"I shifted back and forth between C7 and C major, creating some tension," Plante wrote. "Then, I did the same thing with D7 and D major. I repeated that a couple of times. Jay added a sheen of shimmer with his cymbals and revved up the backbeat. His playing underscored the tension that was building as I toggled between those seventh and major chords…I sang the line with more abandon and more freedom."
A nod to the musical components and connection in the story, Any Other City is presented like a two-sided vinyl LP with many musical phrases intertwined. 
Side A takes us on a journey through Tracy's life in 1993. Tracy is just 20 years old and rambling about in an unnamed city of alleyways. She has recently left her lover, Astrid, and is looking to start a new career in art, but she is adrift.
Tracy then meets visual artist Sadie Tang, who helps Tracy explore her artistic personification and teaches her how to eat oysters. As Sadie says in Any Other City, "they don't feel weird in my mouth, but I know what you mean. They're an acquired taste. Like avocados or cock and ball torture. Sorry. That was strange of me to say."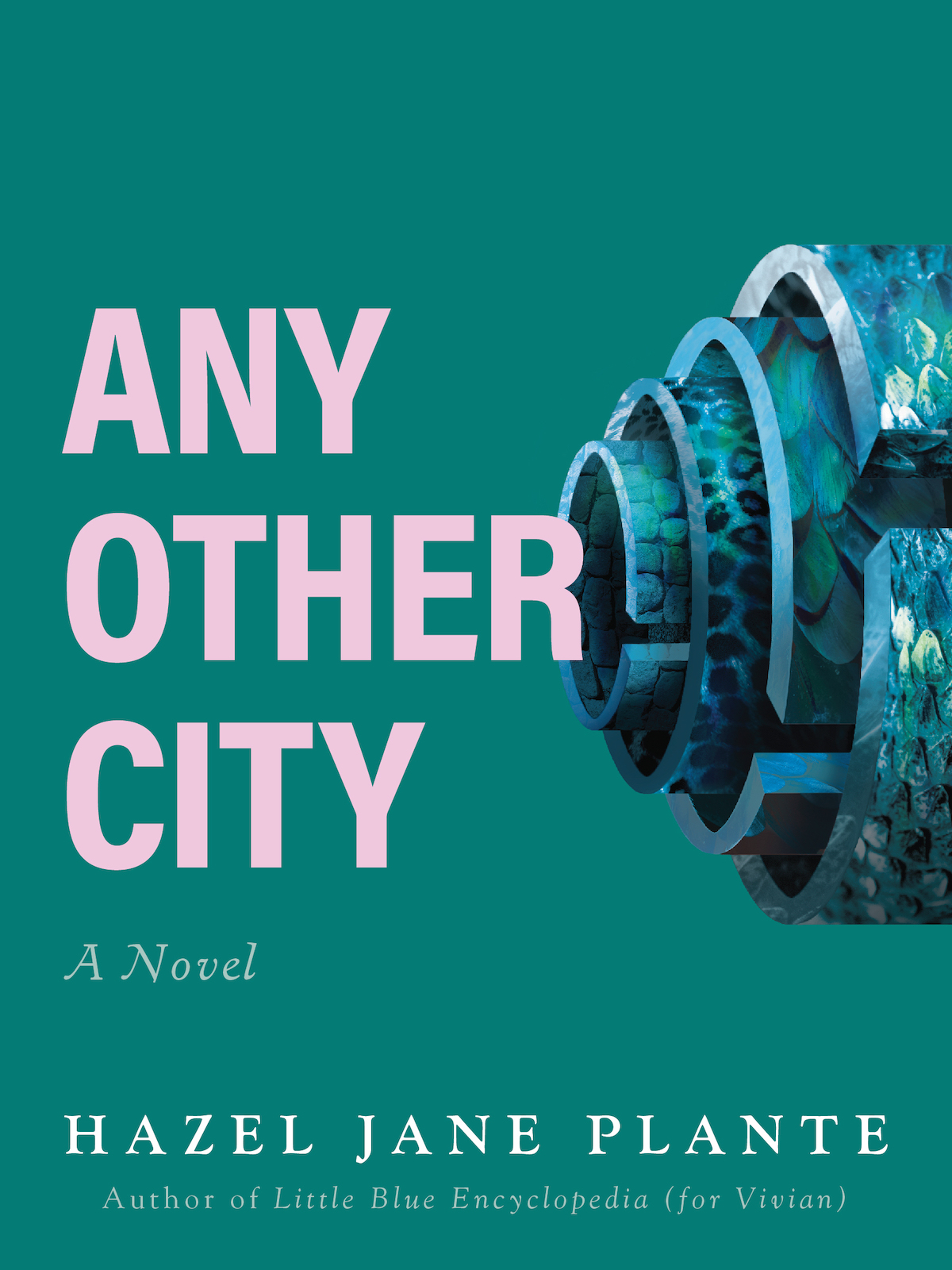 The author's personal life was more traumatizing during her youth. "From the age of six to about 26, I was just angry having been born," Plante said. "Like I was a really angry, anxious and afraid kid…I was just trying to keep myself alive in the life that I was living." However, in the same stage in life, Plante's character Tracy has already met some trans women and has begun her journey of self-exploration and acceptance.
Plante explained similarities between herself and the protagonist of her novel. "I think our lives are very capacious," she said. "I think towards the end, Tracy starts talking about all the different roles that she plays in her life, sometimes at the same time. I am a heartbreaker, and I'm a good girl. I'm a tiger, and I'm a deer, and I'm a capacious creature." Plante explores what it means to belong. She describes Tracy as her idealized doppelganger—smarter and funnier.
Plante explained that some have considered her novel to be a map of her sexual desires, but she said that is not the case. "Like I've definitely had people read this book and see it as a cartography, for example, of my desire," Plante said. "Like sexually. I was like, not exactly."
Side B of the book has much more give and take and is multilayered. Tracy is now a semi-famous musician, 46 years old, and finds herself back in the same city, again recovering from a breakup, this time with Johnny.
Tracy's facial feminization surgery precipitates her and Johnny's breakup. Plante mused that perhaps being less visibly trans is what Johnny rejected—"you don't know how any sort of intervention in a relationship is going to ripple out." The focus in Side B is more on queer kinship, enjoyment of physical pleasures and love.
Plante explained that moving toward femininity can feel like the gulf between how you look and how you want to look. "[It] can feel just really difficult and punishing," she said.
We see this dynamic in the book when Algy, a trans femme character in the novel, introduces Tracy to a different way of being. Algy wants to apply makeup to Tracy, but Tracy gets very upset by this. As Tracy remembers in Any Other City, "I often think of Algy informing me that trans women are witchy. She's right. We have power. We can transform things, including ourselves. We can muster magic."
Plante explained what it is like to not feel comfortable as you are. "What's in your head?" Plante said. "You have an idea of what you look like, and then you actually look in the mirror, and you're like, oh yeah, no, I'm not there. And it's true also [for] cis women as well, but I think for trans women especially, that moving towards femininity can feel like just the gulf between how you wanna look and how you look."
When asked what she hopes readers will take away from the novel, Plante said, "[that] readers are reminded that trans femmes are smart, hilarious, messy and hot as fuck." And, maybe, you will put the book down pondering whether or not this world deserves trans women.
After the book is published in April, Plante will be on a book tour starting in Toronto and going to New York, Baltimore, Chicago and Wisconsin. Plante also said she would love to do a reading in Portland and is looking into it as a future possibility.