Robin Corbo's One Million Brush Strokes shows what is involved in the making of a mural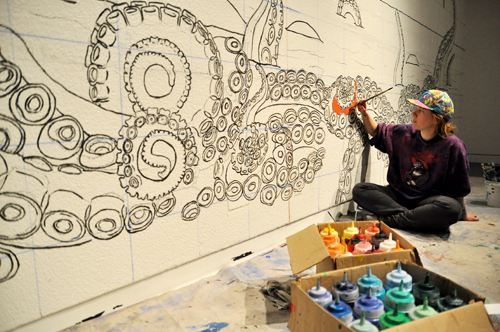 Robin Corbo, a Portland State Master of Fine Arts graduate, is known around Portland for her public murals, which grace the exteriors of many buildings around the city, from North Portland's Mississippi Records to the recently completed mural in Southeast for Bark, a group that advocates for the protection of the Mt. Hood National Forest. Her exhibition One Million Brush Strokes: The Scholarship of Making Murals, opening at PSU's Autzen Gallery Nov. 28, is her MFA graduation thesis.
"The idea of the exhibition is to showcase the process of making murals," Corbo said.
The exhibition will have two parts.
The first part shows the various stages of her recently completed mural. From the charcoal stage to the detail work, the tools and materials Corbo used will also be on display.
The second part of the exhibition will encourage audience members to participate in a paint-by-number mural. The exhibition will also show off all the paint left over from Corbo's works, as she doesn't throw away her paint.
Corbo is also using the exhibition as a "book party" to advertise her first published book, Documentatio of Murals.
"Documentation of Murals features the documentation process that goes into the creation of murals, from rough drafts to frames of completion," Corbo said.
Of course, the process of making mural marvels isn't an easy task.
Corbo partners with local non-profit organizations and works with a team of artists and 40–60 volunteers to make these murals come to life. Each mural is either funded by Corbo herself or by the institution for which she is making the mural. After what Corbo calls a "collaborative brainstorm" with her team of artists, she begins the mural, which usually takes about eight weeks to finish.
"My team and I use a 'grid system.' I plan out and draw the mural, which is only 1/12 the size, and put a one-foot grid over the wall," Corbo said. "Square by square, I start the process of making the mural, starting with charcoal, then outlining, color fill, shading and highlights."
Her technique has proven successful. Her murals for the Community Cycling Center, the Multicultural Integrated Kidney Education Program and Bark are just a few examples of the contributions she has made. In each of her murals, Corbo uses acrylic paint and seeks to convey the message of the non-profit organizations that commission her.
Her Community Cycling Center mural, completed in 2006 and located on Northeast Alberta Street and 17th Avenue, is her most significant. It was the first major project she worked on and what truly established her as a muralist.
Her motive when designing and creating this particular mural was to show children riding their bicycles in a "safe and non-political manner." The process of creating this mural inspired Corbo to take designing murals to the next level, thus providing the foundation for her future as a muralist.
In the Industrial District, standing at 18 by 75 feet, is her "Women Making History in Portland" mural. Completed in 2007, this ode to feminism showcases women who have helped shaped Portland. It is comprised of painted portraits of these women, surrounded by a border of black birds.
In 2009, she completed "The MIKE Program Mural" with certain elements taken from her Community Cycling Center mural. The images are of people exercising, going to the park and enjoying the nightlife of Portland.
The Bark Mural, which was completed last month, at 21 by 100 feet, is her largest mural yet. It took roughly eight weeks to complete and is designed to promote the Bark program's focus on forest activism. It contains environmental imagery such as trees, forest animals like deer and bears, and various species of flowers surrounding people enjoying these wonders of nature.
Corbo received her Bachelor of Arts in art history at the College of Santa Fe, and moved to Portland in 2001. She has been making murals for six years and her murals are fueled by her own interests in cycling, feminism, forest activism, local history and public health.
She has established her own studio called Cicada Ink and, besides painting murals, has also ventured into performance, masquerade, paper maché and puppetry.
Robin Corbo's One Million Brush Strokes
Autzen Gallery (Neuberger Hall, room 205)
Monday, Nov. 28 to Friday, Dec. 9 Gallery hours:
Monday through Friday, 10 a.m. to 5 p.m.