Even if you aren't a big fan of sports, chances are you could name some teams by identifying the mascot that represents them. You'll see a mascot running around at games giving high fives and providing silly photo opportunities, along with making sure there is enough energy from the fans to make the team feel supported.
The origins of mascots for sports can be traced back to various cultural and historical influences including folklore and mythology, often borrowed from the cultures surrounding the community. Creatures like lions, tigers and bears are used because of their association with strength and bravery and often represent the desired qualities of a team and instill a sense of pride and identity.
One of the appealing aspects of mascots is their whimsical nature. Mascots often have exaggerated features, colorful costumes and playful personalities that add a touch of lightheartedness and fun to sporting events and other special occasions where they are needed as representation of the team. 
A mascot serves as a visual representation of a sports team's identity and helps create a recognizable brand. It often embodies the team's name, spirit and values, making it easier to be relatable. Not to mention the amount of promotional material that can be created to embody the mascot.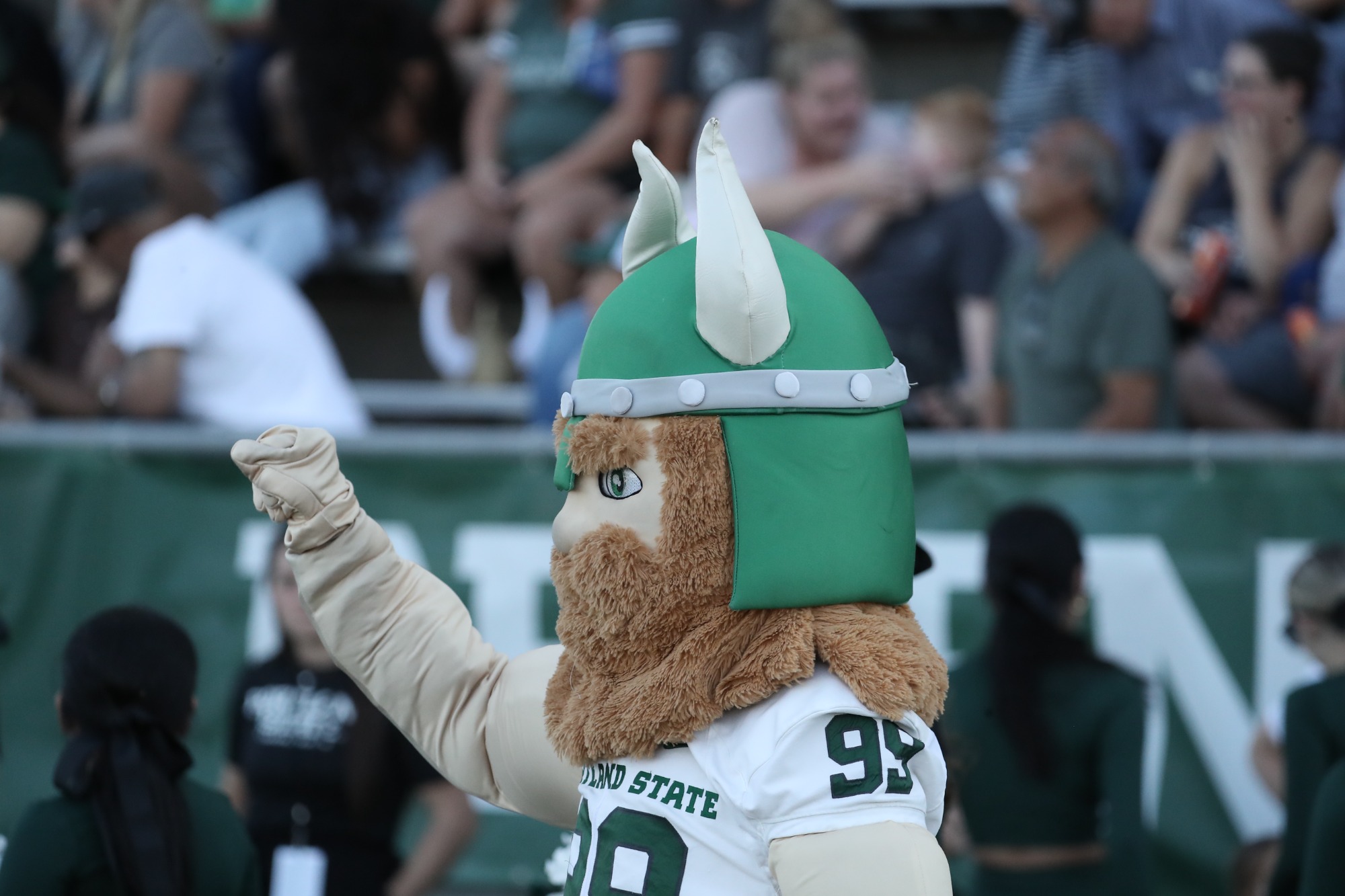 Mascots are entertainers in their own right. Their whimsical appearance and behavior are designed to captivate and amuse audiences, particularly the kids. By being playful, silly and sometimes even mischievous, mascots create a sense of joy and excitement that enhances the overall entertainment value of an event. They are by nature the more approachable face of any team with their larger than life personas and friendly demeanor that helps break down any barriers between fans and the team, resulting in fans feeling more of a connection. Mascots have a knack for engaging with fans and sometimes the reactions they receive are unexpectedly funny and make for a potentially viral moment. And for us here at Portland State, we have Victor the Viking to represent us.
Victor the Viking was first introduced in the 1960s when PSU transitioned from being a two-year college to a four-year university. But why a Viking? Victor comes from the university's Scandinavian roots, plus the added bonus of the strong qualities associated with Vikings like strength and determination.
The initial design of Victor featured a bearded warrior with a horned helmet and shield. But over the years, the mascot has evolved into something a bit more modern and approachable. Known for his energetic and engaging personality, he is often seen on the field or court leading cheers and interacting with fans. In addition to being PSU's hype man during the games, he also serves as an ambassador by making appearances at various campus events, community functions and other local middle or high school events. But you might be wondering about the human that makes this all happen for us here at PSU.
Allow Portland State Vanguard to introduce our man behind the mask, "Z." Much like Bruce Wayne hiding his role as Batman, PSU protocol requires that the identity of Victor the Viking must stay anonymous. This makes it easier for the person inside to take over the mantle of the viking mascot and gives them a lot more freedom to flail around freely and bring joy to the fans attending the sporting events. Studying history in hopes to join the teaching program at PSU, Z was in the market for a job on campus. With his performing arts and theater background, the school thought they would give him a shot. He did a working interview at Tigard High and impressed the right people, signing a contract with the university starting in the fall of 2022.
In the beginning, Z was a little nervous because of the fact that he had never been a mascot before, but he knew the ins and outs of performing from doing it previously—even though this type of performance is a bit different from the rest. "I had no background in it, but I do have a background in theater," Z said. "I just kind of winged it the first couple months and then started to get the ground under my feet a little bit and feel better about it."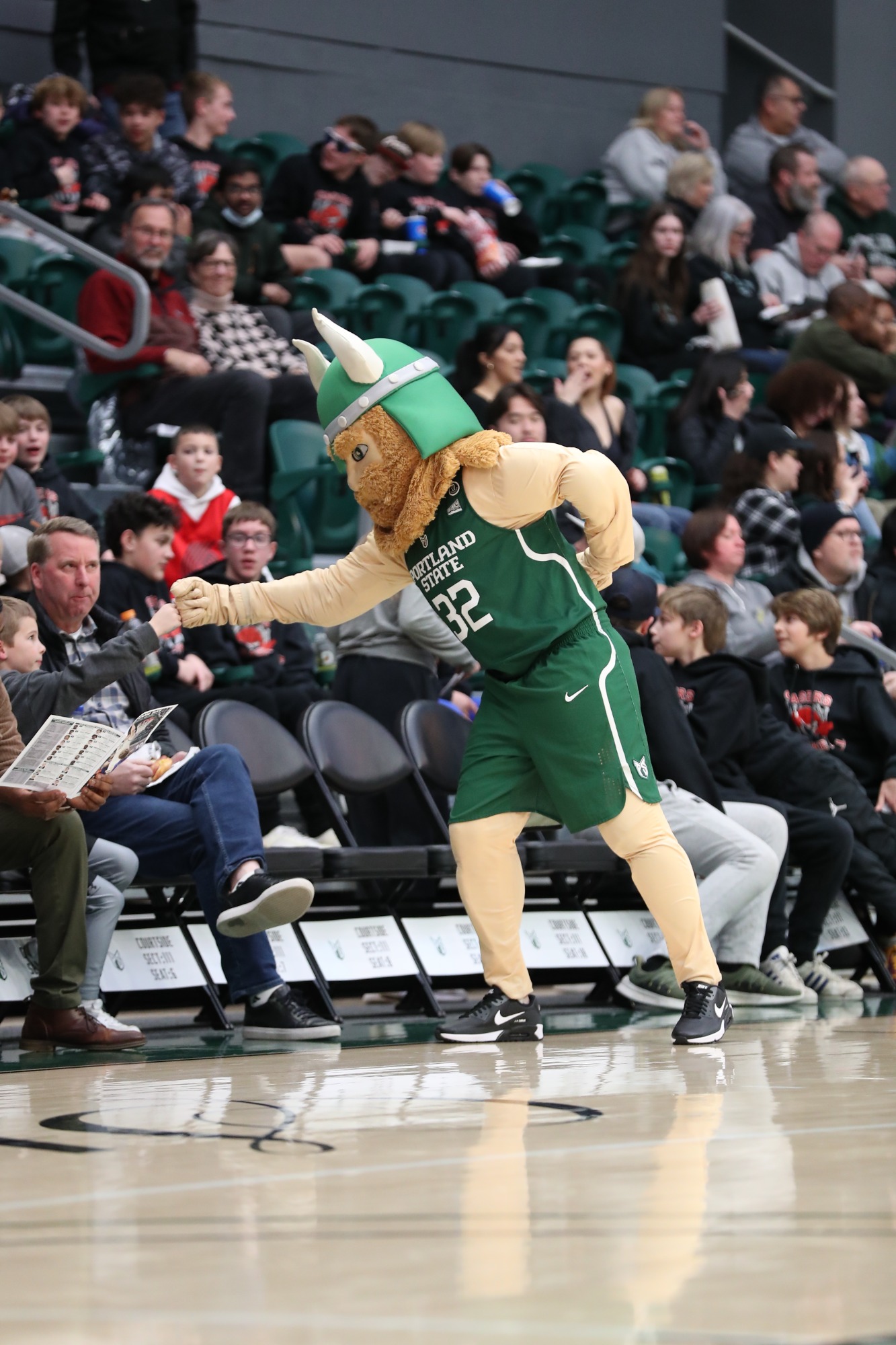 In addition, there was the added pressure to really bring the mascot back to life after its long absence due to the COVID-19 pandemic. But with practice, he has become very fond of his role of Victor the Viking.
Z found that his biggest reward to being the mascot for PSU is the excitement that he can bring to the fans and families of the players. He said that it takes a lot of empathy to run around dressed as a seven-foot Viking while sweating away every ounce of water in his body. But he understands the assignment as the metaphorical host at games and events.
Vanguard was able to get the inside scoop from Z on the day-to-day life of a sports mascot. First things first, Z said that hydration is the most important part of prepping for game day. "The biggest thing for me is hydrating the day before," Z said. "Like hydrating to the point where you feel a little sick."
Often, he is required to show up before the crowd comes rushing in to provide the media team with promotional images. Fortunately, he has his very own space in the locker room and gets to interact with the players, which helps him feel included and not just some strange character tagging along to the games.
In his short career as Victor, one of his most memorable times getting suited up was when he joined the dance team on the floor during halftime of the game and did the dance right alongside them, despite the fact that "I'm not a dancer, at all," as he said. Z claimed that he would bring the suit home and practice making moves other than waves and highfives, which he said gave his dog existential dread. "I would take the suit home with me and my dog would always be freaked out a little bit," Z said, recalling the hours of practice he did leading up to the dance.
Another highlight of his time as Victor was the new event PSU athletics puts on called the Teddy Bear Toss. "It's a charity event where fans are asked to bring a teddy bear and toss it at the mascot in the center of the court at half time," he said. "The toys are collected and donated to Les Schwab—the tire company that sponsors our basketball team—Christmas toy drive. It was a big success this year and we are hoping to encourage participation for our event next year."
Overall, the whimsicalness of mascots adds an element of joy, entertainment and approachability to sports events. They contribute a positive experience, create memorable moments and help forge connections between teams and their supporters. The whimsy of mascots is a cherished aspect of sports culture that brings smiles to faces and adds an extra layer of enjoyment to the game.