More than 200 people gathered in Shemanski Park behind the Arlene Schnitzer Concert Hall on an intermittently rainy Sunday, Sept. 17 afternoon to listen to speakers discuss a range of topics relating to race, sexuality, sexual violence—and the need to end a culture of victim-shaming—before marching in the 7th Annual Slutwalk Portland.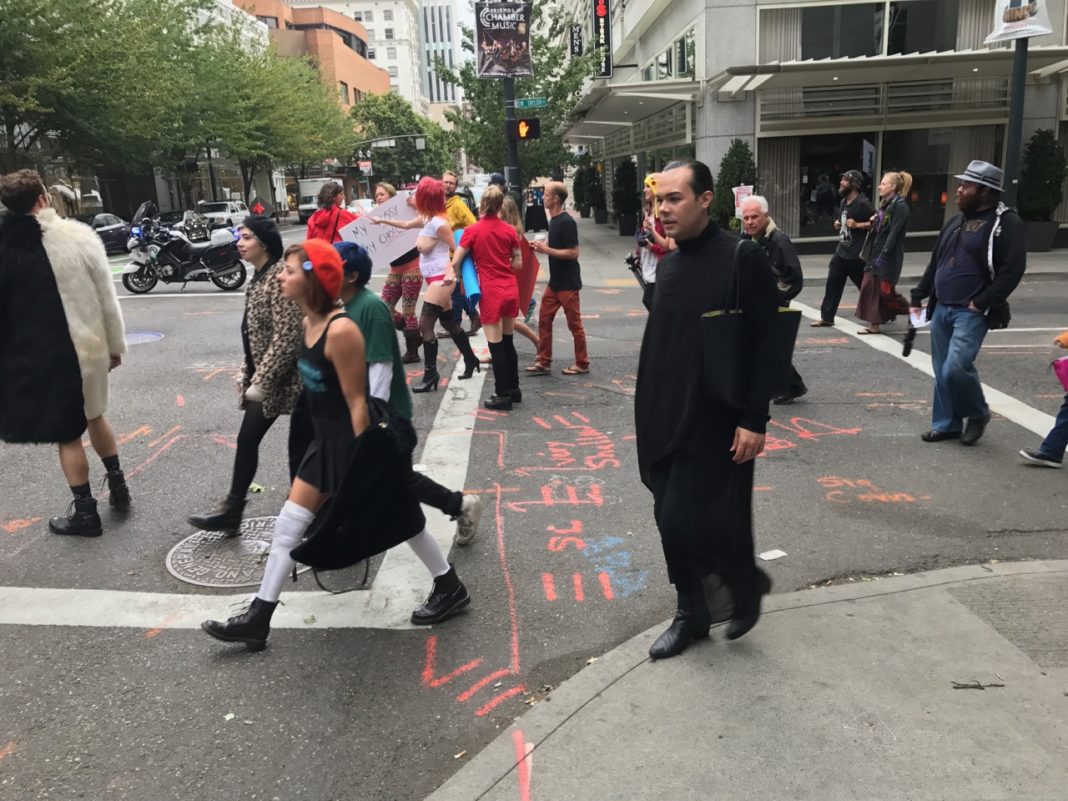 Slutwalk Portland co-organizers, artist Sterling Clark and lobbyist, writer and podcast host Elle Stanger, were among the afternoon's speakers, who also included certified partner surrogate Carlene Ostergaard, queer sex worker Kat Salas, comedian & pole dance instructor Chris Ettrick and Seattle-based activist J.D. Dowell. PSU Vanguard live-streamed speeches by Ostergaard, Ettrick and Stanger on our Periscope channel. Between speakers and before the march, Stanger handed out gift packs from sponsors Kiska Pole Studio, Sex Positive Portland, Sex Positive Education & Event Center and the Champagne Room Art Gallery. Packs were awarded for answering questions like, "Who can name a problematic white feminist?" and responding to fill-in-the-blank statements like, "Reverse racism is what? Not real."
After Stanger spoke, she, event peace keepers with pink shirts, and members of the Portland Police Department led attendees on an approximately 12-block loop from the South Park Blocks, east along SW Madison Street to SW 4th Avenue before coming back west along SW Main Street to Shemanski Park. As the attendees began marching, their numbers matched those of a nearby line of theater patrons waiting to see Billy Elliot. PPB assisted with blocking intersections for demonstrators, some of whom were dressed for the rainy weather and many of whom wore expressive outfits that revealed their bodies. While some onlookers were audibly uncomfortable with the demonstration, attendees cheered and chanted as they returned to Shemanski Park.
The 7th Annual Slutwalk Portland was originally scheduled for Sept. 10, but was rescheduled when event organizers discovered their demonstration was being held the same day as a Patriot Prayer rally near the same area.
Disclaimer: The author of this article is the twin brother of a co-owner of Kiska Pole Studio.