After fighting for equal treatment of the queer and trans community on campus, two Concordia University Portland students, Amber Reeves and Ernesto "E" Dominguez, hosted CUP's final Queer-Straight Alliance meeting as an official student group on Jan. 15, 2018.
Reeves plugged their phone into a pair of boxy speakers. Messages of support from CUP alumni and strangers from across the country blared in the campus' small commuter lounge in the Hagen Student Center. The room was packed that night with 18 students and a handful of faculty.
Having maintained a confident and cheerful demeanor while announcing the club's fate to the room, Reeves could not hold back tears as they approached Dominguez for a hug.
Earlier in the day, the QSA announced they could no longer be a funded and recognized student group. The reason, according to Dominguez—the CUP student body president and founder of the QSA—was that the QSA could not come to an agreement with the university on the language in their charter.
According to a Dec. 2 email from the Events Review Committee Dominguez quoted on Facebook, the committee found the QSA's charter wording, including "change the perception of Christian folks" unclear and "maybe not respectful/honoring of the University's Christian identity and values or of Christian values."
Dominguez said the club tried several times to come to an agreement on the wording with CU's ERC to no avail.
Dominguez added the QSA had submitted the same charter language for the 2014-2015 and 2015-2016 academic years with no contention.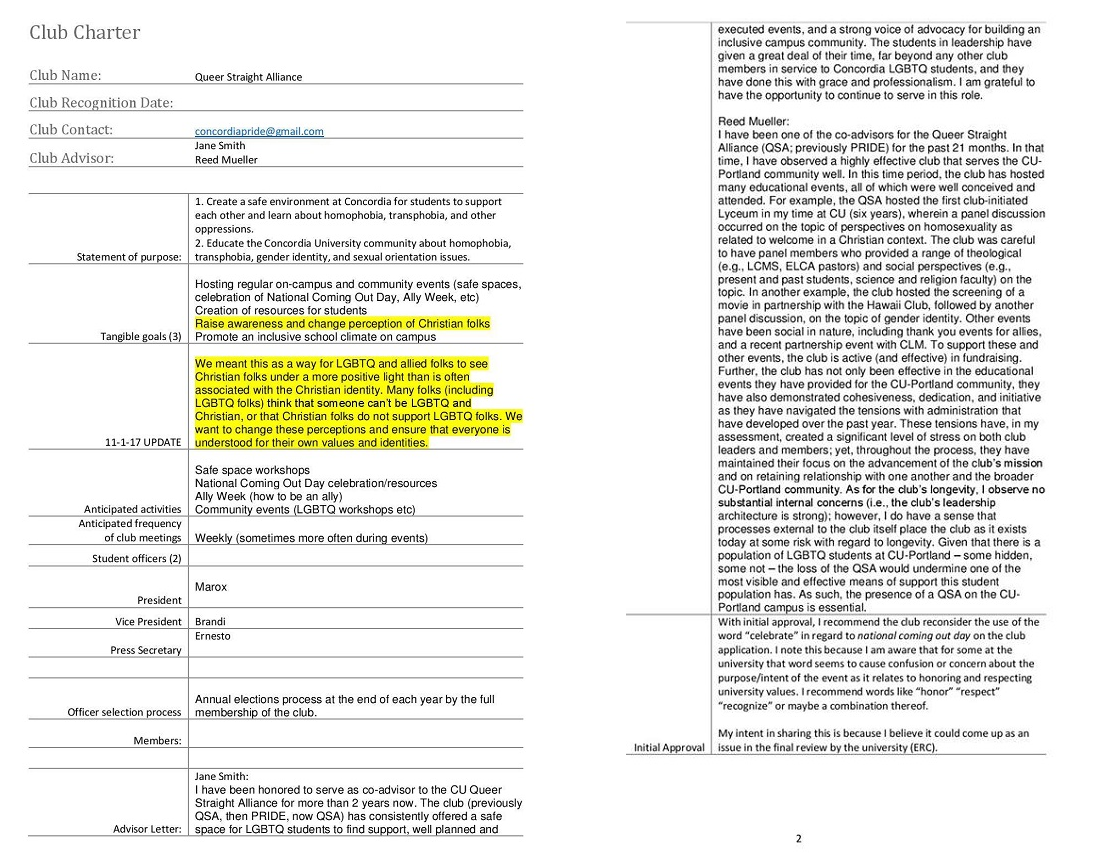 CUP's Strategic Communications and Partnerships Advisor Madeline Turnock wrote in an email that the ERC is simply reviewing every club's charter this year to make sure they are in compliance with the school's diversity, equity and inclusion policy.
However, Dominguez claimed the QSA is the only club this year the ERC has repeatedly denied charter approval to, and the only club that "went through weeks and weeks of vetting" to make sure its charter met policy.
At this moment, the QSA is done negotiating.  
"[The ERC wants] us to take away aspects of the club that will allow us to talk about Christianity and celebrate being gay, being specifically those two things," Dominguez said. "We're not going to keep bending over backwards to be [the ERC's] club. If [they] want that club, [they] can start that club, but that's not who we are."
The question of discrimination
Some attendees of last night's meeting interpreted this as CUP discriminating against queer-identifying students
"It's a fucking disgrace," said former CUP student Ethan Livermore, addressing the room. "It just baffles me that the school cannot see you guys the way God sees you." Livermore, a former QSA member, graduated from CUP in 2017 and said he became a Christian while he was a student.
"The whole us versus them mentality is outdated and not biblically true," Livermore added. "God does not make mistakes. God's love does not discriminate."
Turnock denies CUP discrimination against members of the QSA.
"As a Christian university, we value all students and community, including those who contribute diversity of all kinds and may have different beliefs," Turnock wrote.
However, according to Federal law, CUP has not always proven this point.
In June 2017, CUP was found to be in violation of student nondiscrimination policy. According to a statement, this specifically related to the PRIDE club that represented the queer and trans community on campus.
According to Dominguez, this is how the QSA got its name. When Dominguez founded the club in 2014, CUP's President Charles Schlimpert reportedly told Dominguez he could not use the word "queer" in the club's name. After Dominguez filed the Title IX grievance in 2017, the school relented, and the PRIDE club changed its name back to the QSA.
Turnock would not confirm or deny whether the Title IX violation directly led the ERC to reevaluate student organization charters. The ERC first contacted clubs on Oct. 16, 2017 with a flexible deadline of Jan. 19, 2018 for charter resubmittal.
"We must resist these attitudes with the truth of God's word"
Turnock wrote CUP "[upholds] the mission and values of our Christian faith, Lutheran understanding and heritage, and liberal arts tradition."
CUP is a member of the Concordia University System, comprised of 10 schools across the United States affiliated with the Lutheran Church-Missouri Synod. LCMS is a more conservative branch of the Lutheran Church, and its stance on queer identity is clear:
According to an online statement, "there has been a growing increase in the influence of the 'gay rights' movement, even within some Protestant churches. The 'gay rights' movement wants our culture to accept homosexuality as an alternative natural lifestyle in which human beings may express their sexuality. We have reached the point where even the idea of 'gay marriages' is considered an acceptable possibility. The church must resist these attitudes with the truth of God's Word."
Dominguez claimed the LCMS President Rev. Matthew C. Harrison wrote a letter to Schlimpert when he found out the QSA was hosting a drag queen bingo with Portland State alumnus and performer Carla Rossi, aka Anthony Hudson. Two days before the event, after the group had secured funding and booked Rossi, CUP cancelled.  
On the night of the QSA's last meeting, Hudson penned an open letter about their relationship with QSA over the last few years.
Another performer, Loretta Good Lordchild, also wrote on the QSA's Facebook page that an organization they were volunteering for asked them to hold a fundraiser on CUP's campus. Lordchild said they were disinvited when higher-ups found out about it.
Portland-based Facebook user Denver David also commented on the page, "Looks like my upcoming queer-themed exhibition at Concordia, slated to open at the end of the month, is now 'postponed.'" They added, "I've invested already quite a bit of time and money on dates I thought were official."
Harrison has already been in hot water in the past for his conservative stances. In 2013, The New York Times reported Harrison unexpectedly apologized for rebuking a Newton, Conn. preacher for participating in an interfaith memorial.
It is unclear whether LCMS has had any influence on the QSA's charter, but some CUP members feel suspicious.
"What's happening on the campus for our [QSA] students is more about people off this campus and outside of even, probably, this state, putting pressure on the administration," said a CUP employee who did not want to give their name.
CUP's relationship with LCMS
Schlimpert announced one month before the Title IX ruling that the LCMS had requested CUP consider separating from the Concordia University System and operate as an independent Lutheran university. Currently, according to Turnock, CUP is still discussing the matter with LCMS.
It is unclear what prompted the request, including whether or not the CUP administration was pressured because of the Title IX grievance. Turnock said CUP's responsibilities to LCMS and Title IX are not mutually exclusive. Additionally, CUP does not intend to apply for a Title IX exemption.
It is also not clear what the separation would mean financially for CUP, as the university might depend on the CUS to continue its distance learning. During a 2016 Oregonian investigation, Turnock said CUP collaborates with sister schools to deliver online courses.
A history of legal issues and 'hush-hush' administration
Additionally in that investigation, last year CUP paid $160 million to the for-profit firm HotChalk to handle aspects of its online courses. Consequently, federal prosecutors investigated CUP for allegedly allowing the firm to handle recruitment and admission of new students and for the non-profit institution allegedly relying too much on the firm to manage its student population. Of CUP's 5,445 students as of 2016, online students make up 74 percent of that population.
CUP denied any wrongdoing and both Concordia and HotChalk settled for $1 million.
The mystery behind the QSA's tensions with the administration and the possible LCMS separation is not a surprise to some students and employees.
Another employee who did not want their name published for fear of losing their position wrote, "Not exaggerating when I say the place is like [North] Korea."
Marox Johnson, the current student president of the QSA, said the university tends to be hush-hush toward students as well.
Disappointment for some, surprise for others
Johnson added the presence of CUP's QSA was what originally brought them to Concordia. Johnson, a Dallas native, said they have experienced a much different kind of homophobia on campus than they have at home.
"It's interesting to come here and have people…who don't believe in who I am as a person," Johnson said. "They don't accept who I am, but they still act nice to me, and they are still nice to me [to] my face. Just that whole 'love the sinner, hate the sin,' type thing."
This is Johnson's first semester at CUP. They added, "I can't do another year."
Dominguez and Reeves both have stuck with CUP for years. Dominguez, who graduates in three months, said he both appreciates many of the CUP faculty and staff and hopes the university finds its way.
"I honestly do believe that our school can make a turn for the better," Dominguez wrote in a follow-up message. "I just think they need a huge push in the right direction. The school tends to respond to outside pressures (mostly from the church), but I don't believe it is malicious."
"The faculty are amazing," Dominguez added. "The classes are small, my program (social work) is amazing, and the faculty [is] really focused on social justice. Our staff care about our students."
Whether the charter conflict is a misunderstanding or an act of discrimination against the QSA, an earlier-quoted employee feels CUP's environment has been tarnished.
"While there are allies, this is not an inclusive community," said the employee, who described themself as "out." "I have not had one-on-one encounters that have been homophobic, but if [the QSA is] not welcome, I don't feel welcome."
They added the administration talks its way "around legal stuff, like how legally equity is defined and kind of escape the issue, but essentially students are getting discriminated against, having a less-than-positive experience here, and they deserve much, much better."
Allies elsewhere
Turnock said the ERC is attempting to re-engage the QSA. Meanwhile, Assistant Principal Karmin Williams of Faubion Middle School, which adjoins the CUP campus, has offered for the QSA to continue on their property.
Dominguez said the American Civil Liberties Union has also asked if it can help the QSA in any way.
Though Dominguez has hope for the university, he also feels it is time for it to be held accountable.
"For so long we've really tried to keep this on campus," Dominguez told the room. "I want our side of the story to be told."
---
This is a developing story. The Concordia University Queer Straight Alliance is continuing its conversation on Facebook and answering questions from the public.
Additional reporting from Andrew D. Jankowski