As winter looms, it's hard to forget the infamous Portland Snowpocalypse of 2016, when on Dec.16 a snowstorm hit the Portland metro area overnight, producing three inches by morning.
People in the Midwest and East Coast would've thought we had gotten three feet. Traffic was bumper to bumper, public transportation shut down, people even abandoned their cars on roads and highways and streets remained empty, covered in snow and ice. Basically, the whole town shut down and everyone took a snow day.
So the question at hand is, is Portland ready to handle Snowpocalypse Part II?
One of the many factors contributing to the citywide shutdown of 2016 was Portland's lack of a strong snow removal system: We just don't have that many snow plows.
According to an Oregonian article written right after the snowstorm, Portland only has 55 trucks—not many for a city Portland's size. Combine that with the miles upon miles of streets Portland Bureau of Transportation has to clear, and it's a recipe for disaster.
Another issue is that Portland uses magnesium chloride—an ice melting compound that has to be sprayed days in advance—instead of rock salt. PBOT sprayed magnesium chloride in anticipation of the 2016 storm, but it didn't do its trick and the snow accumulated. Like most major cities, PBOT mainly treats ramps, interstates and highways, overlooking most side roads or neighborhood streets.
Aaron Golub, a professor of urban studies and planning at Portland State, said Portland uses magnesium chloride instead of rock salt due to concerns about pollution and damage to roads. According to a Willamette Week article, Portland has been using some salt on certain roads since early 2017.
Golub said he thought the main issue behind Portland's snow problem is that it's expensive to address, especially when the city only has a few snow days every year. "It doesn't make sense to put the infrastructure in place for a few days out of the year," he said.
Golub also said Portland's unique geography presents problems that can't easily be fixed. "The danger lies in the West Hills," he said. "It is treacherous to address the removal of snow and ice. We have one city that is [both] hilly and flat."
Even if Portland had the right measures in place to prevent a citywide shutdown like the one following the Snowpocalypse, Golub said, Portland will always face challenges in clearing snow from areas where a significant number of people live. The effect of this is that teachers, city officials and businesspeople struggle to get from their homes in the hills to their places of work downtown or on the east side.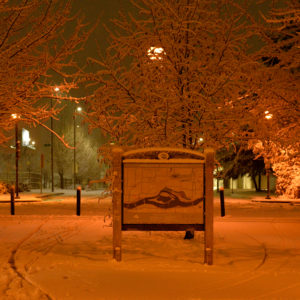 With this being the case, Portland will probably never be truly prepared for Snowpocalypse Part II. There will always be neighborhood roads that won't be cleared, causing schools and businesses to close for the day. In other words, don't be surprised if PSU decides to give their students a snow day sometime in the near future.