The Korean Student Association (KSA) re-established their club with an event on May 2, their first since the start of the pandemic. KSA aims to promote reconciliation and harmony between Koreans, Americans and other international students at Portland State, according to the mission statement on KSA's webpage located through the Portland State Connect website.
When asked what happened to the pre-pandemic KSA, KSA President Serene Park and Vice President Yatnary Villanueva explained that the previous officers all graduated when the pandemic began in 2020. Once gone, there was no one around to continue the club with the campus closed.
Park and Villanuave said they encountered several challenges when trying to re-establish the club which put a damper on launching their first event, including coming across another group claiming to be the KSA on campus. 
"That was very confusing because when I asked my advisor if there was another KSA, she said no, that it was just me interested in forming it," Park said.
Park explained that although their advisor was new and did not know about the other KSA, everything eventually worked out when the two organizations merged to create the current KSA. Villanueva added that none of the officers have experience, so they were all overwhelmed while figuring out how and when to submit various forms.
"That's why we didn't have our first event until halfway through this term, because this whole year so far we had to do numerous revisions to forms and resubmit them," Park said. "We still don't have a treasurer, so we had to do all of this ourselves and the lack of knowledge made it harder to complete quickly."
The KSA relaunched with a 101 event on Tuesday, May 2, occuring in room 298 of SMSU from 4:30 p.m. to 6 p.m. It began with introductions of the officers and a brief presentation of what the KSA is, then the rest of the time was spent playing three traditional Korean games. The games consisted of 눈치게임 (noonchi game) or the "timing game," 닭싸움 (dakssaum) or "chicken fight," and 무궁화 꽃이 피었습니다 (Mugunghwa kkochi pieotseumnida) or "red light green light." The games required people to be active, with many participants even starting to sweat.
"The chicken game made it less awkward since everyone looked crazy together," said Alina Nguyen, a non-Korean student who attended.
Another attendee, a Korean student named Jun Park, said he appreciated that even though many people didn't know what kind of games these were going to be, they were still open-minded and able to have fun as a group. Other attendees, Evan Glipa and Joel Garcia-Cervantes, also expressed that they enjoyed the games and hope to see similar ones that require movement in future events.
With about 18 attendees at the start, the room quickly filled up to around 30 people within the hour, which exceeded Park and Villanueva's expectations of 20 attendees. By the end of the event, the small room was jam-packed.
"I think having so many people like this gave it more engagement," Park said. "It made people more comfortable to participate. Next time, we'll definitely get a bigger room."
In regards to who is welcome to join and about non-Koreans participating, 100% of Korean respondents said they had no negative feelings.
"I love it, it'd be super fun to introduce them to Korean culture and as a Korean person, I'd be very happy to welcome them," said Jihye Kim, adjunct senior instructor of Korean language at PSU. "I am a huge supporter of KSA and I want them to be successful." 
Jun Park noticed that a lot of Americans are showing interest in his culture, explaining that he loves seeing non-Koreans partaking in it. He hopes that KSA will grow to better promote the culture.
Other attendees also felt that anyone is welcome. Daniel Yim, a Korean student, said he has no opinion on non-Koreans partaking in the culture, but that it can't hurt to have more members.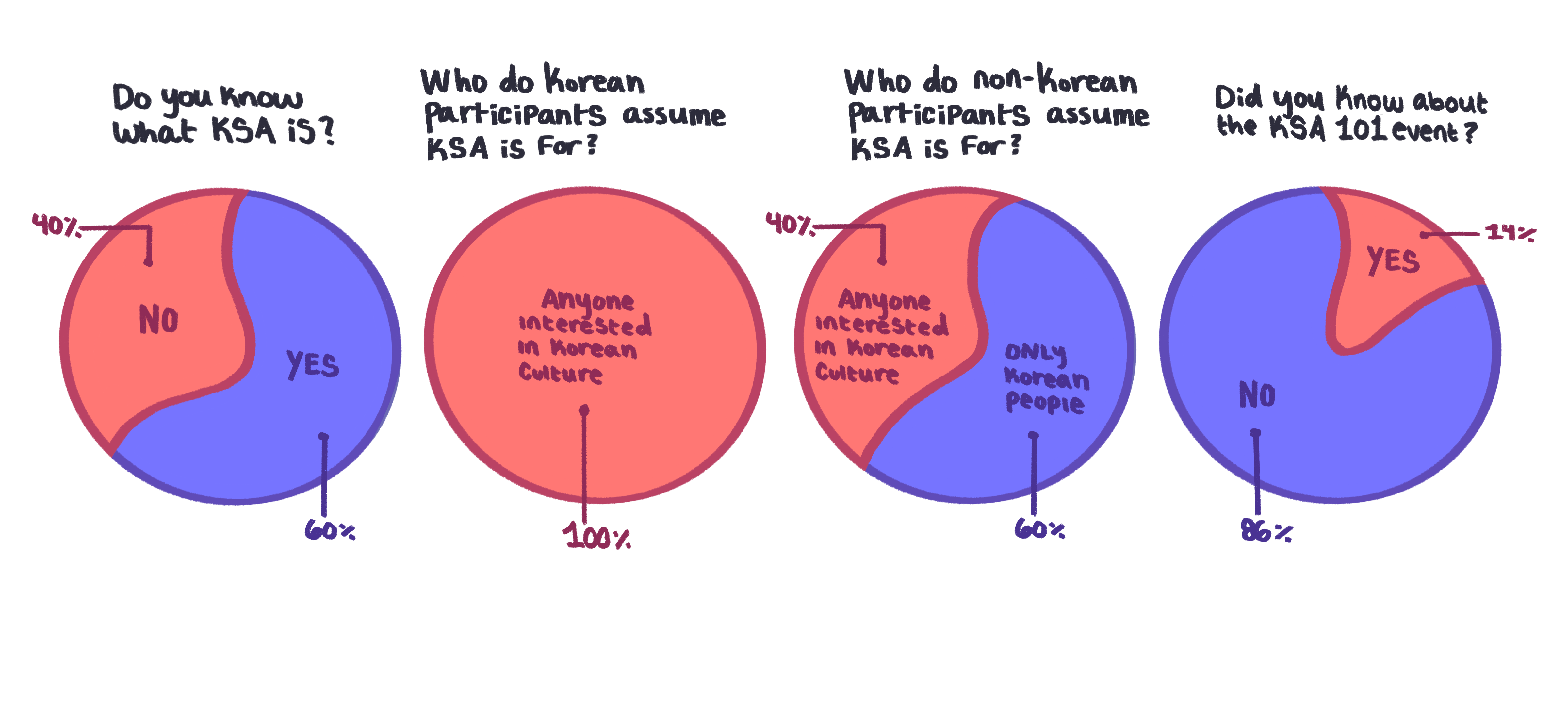 Conversely, 60% of non-Korean participants assumed the club is strictly for Korean people, while 40% assumed that it is a collaborative space for both. Morgan Dunlap and Heaven Joseph, non-Korean students who attended, both expressed concerns about intruding on a space that isn't theirs.
"Being white, I just don't want to take up a space where I'm not needed," Dunlap said. 
"I think KSA is a place to stay in touch with people's roots and provide a safe space for those wanting to connect with other Koreans," Nguyen said. "I also assume KSA is about sharing and preserving Korean culture."
In contrast with what the 60% of non-Koreans initially assumed, KSA, as stated in their mission, intends to promote harmony among all people, regardless of whether or not they are Korean.
"We try to keep our events as inclusive as possible, while still maintaining Korean aspects here and there to allow people to learn about the language and culture," Park said.
Officer positions can be filled by both Koreans and non-Koreans, Park said, with the goal of promoting the inclusivity that the club so strongly advocates for and making KSA more inviting for all. Park and Villanueva explained that it's less about being a member of KSA and more about building a community of people who are consistently coming together to share their love and curiosity for Korean culture.
"Members are people who want to be updated on things, but there's no exclusive members-only things, because we want it to be as open as possible," Park said. "So I guess anyone who comes to the events can call themselves members."
40% of respondents, especially non-Koreans, voiced that they're only comfortable going to events if they go with a friend.
"I feel like I wouldn't just go on my free will," Ocean Fernandez, a non-Korean student said. "But if I saw somewhere that [KSA] is open to everyone, then I would definitely join in, even just by myself."
Participants also explained how they think respect would look in a cultural space like KSA.
"Being willing to participate in the atmosphere, while keeping an open mind to the fact that as non-Korean identifying individuals, we can easily turn curiosity into ignorance," said Karina Soltero, a non-attendee non-Korean student. "So being mindful about what we say and how we react to different cultural values and aspects."
Due to 40% of participants not knowing what KSA was and 86% not knowing about the event, some shared suggestions for better promotion, such as flyers and frequent Instagram posts. Park and Villaneuva said that they forgot to put up posters for this event but plan to for following events.
"It's mostly word of mouth, a lot of people that came are our friends and friends of friends," Park said. "We also did presentations in Korean language classes and worked with Korean professors to get the word out."
Park and Villanueva expressed that they and the other officers are open to listening to concerns and suggestions. To learn more about future events and activities, as well as get to know their officers, go to KSA's Instagram: @pdxksa and their Discord: https://discord.com/invite/wp9EpRUf