Soon enough our days of due dates, deadlines and note-taking will come to an end, and we will need something aside from catching up on sleep to fill the time. After you've tended to your tomatoes growing in the garden or dried off from your swim in the river, perhaps sipping an ice-cold beer in the shade while being entertained by a group of talented young baseball players might just be your best option.
Nestled in the southeast neighborhood of Lents, you'll see the summer sky illuminated by Walker Stadium, the home to Portland's whimsical collegiate, wood bat baseball team, the Pickles. Since 2016, the Portland Pickles have been providing a night of affordable fun for families, friends and company parties by offering an out of the box promotional schedule to accompany their 41 home game season. Each game is presided over by the organization's seven-foot-tall dill pickle mascot—aptly named Dillon—that makes his rounds for photo opportunities or an especially plushie high five.
Not only is it easy to find yourself at Walker Stadium having a good time sitting on the berm in the grass with pals, you can also enjoy a highly competitive game of baseball as well. Since their inaugural season, the Pickles have been able to produce a winning record each season, with the exception of 2020 due to COVID-19 lockdowns. And many of these young athletes have gone on to sign contracts with Major League Baseball teams.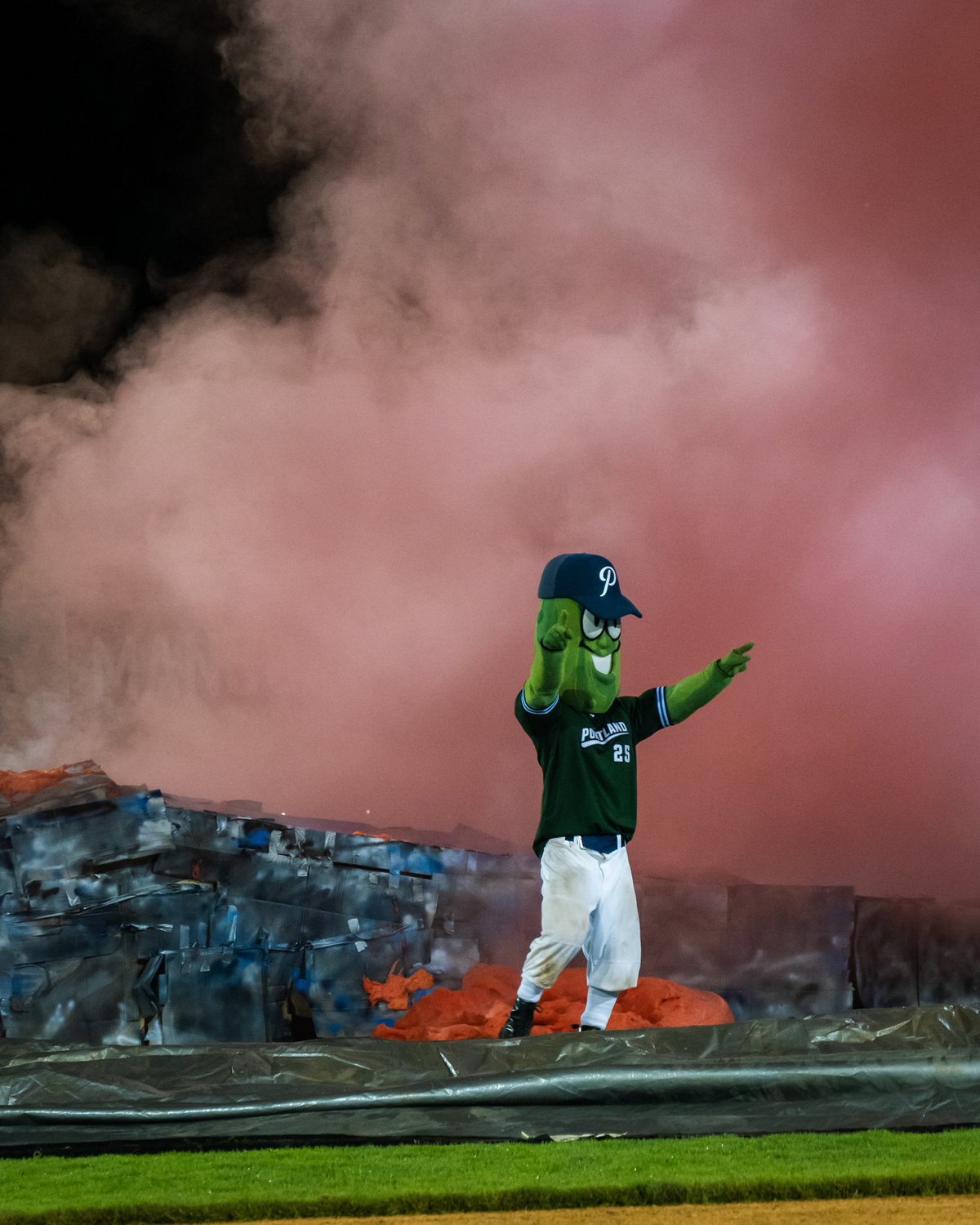 You may have heard of the Pickles organization before, though it might not have been in the context of a baseball game. The team found themselves headlining in the news after a playful yet suggestive photo was shared on social media during Dillon's media takeover while in the off season of Jan. 2022. After the tweet of the photo went viral and the keyboard comedians took to the comment section to try and hit it out of the park with their remarks, it got featured on the late night talk show, Jimmy Kimmel Live.
If you weren't familiar with the Pickles from that particular story, you may have heard the local lore of when the team's mascot was stolen. The theft came after the organization was still riding high on national attention, when a series of unfortunate events resulted in Dillon the pickle being lost while packed inside luggage for an international flight. Luckily enough, the airline was able to find the mascot and return it home, only to be sent to the wrong address and then be stolen off the porch. Thankfully, through good community work and lots of media attention, Dillon the Pickle was reunited with his team.
As out of the norm as those stories are about a local summer ball league, it lends itself to explaining the character of their organization as a whole. "It is a work hard, play hard atmosphere," said the first year General Manager, Parker Huffman. Huffman has been in the organization since 2019, where he started as an intern before taking on the full-time role of ticket manager. Eventually he climbed the ranks and started the 2021 season as the Assistant GM, then was promptly promoted to General Manager in 2023.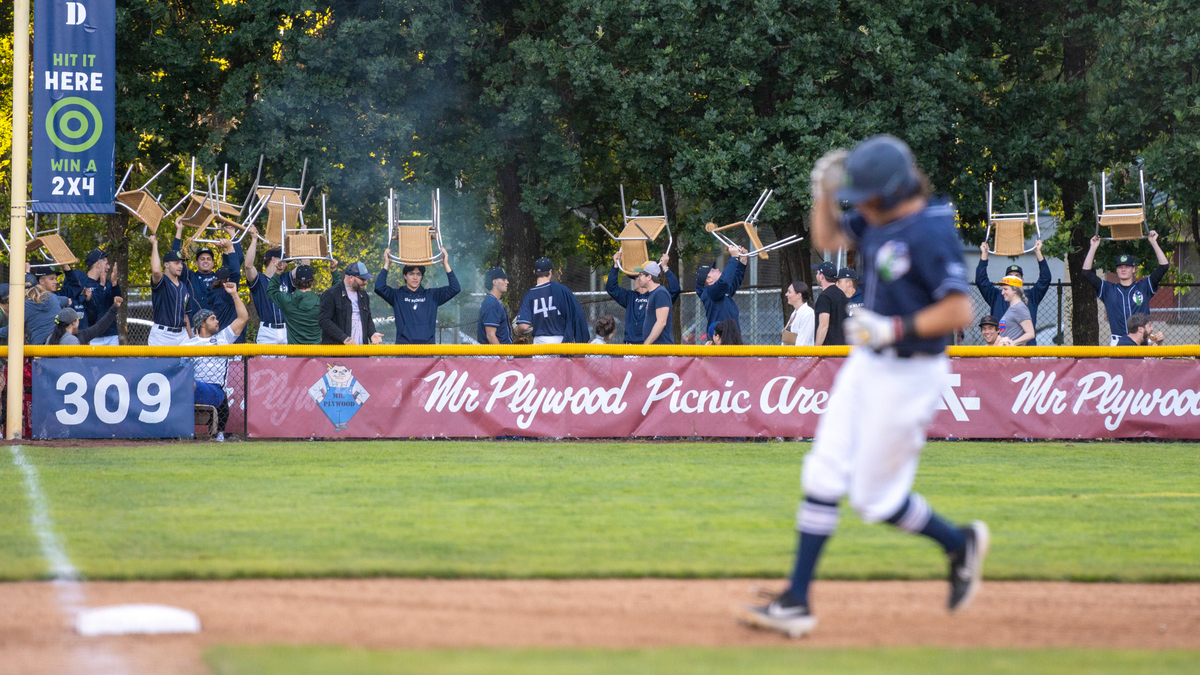 With the experience that comes from being in the organization through its formative years, Huffman attributed the team's success to the core group that has been there alongside him. In addition, they are able to have a little bit more freedom than most sports teams in the sense that they are self-contained and are able to take more risks without the typical corporate backlash.
In addition to being able to show their wild side via social media, the team is able to flash their eccentricities through its unique promotional schedule. Huffman said that the creative team sits down at the end of each year to look back on their success and try to top it for the next season.
This year they are starting off their promos by showing some love to the teachers in our community with an Educator Appreciation Night, where educators can register for a free ticket for the preseason game on May 30. This is also the beginning of a reoccurring promotion called Tattoo Tuesdays, with the inking being done by local artist Mark Dugally. However, in order to enact some sort of crowd control, you have to enter a lottery to be one of the lucky ones to get tatted in public at a baseball game. So Portland.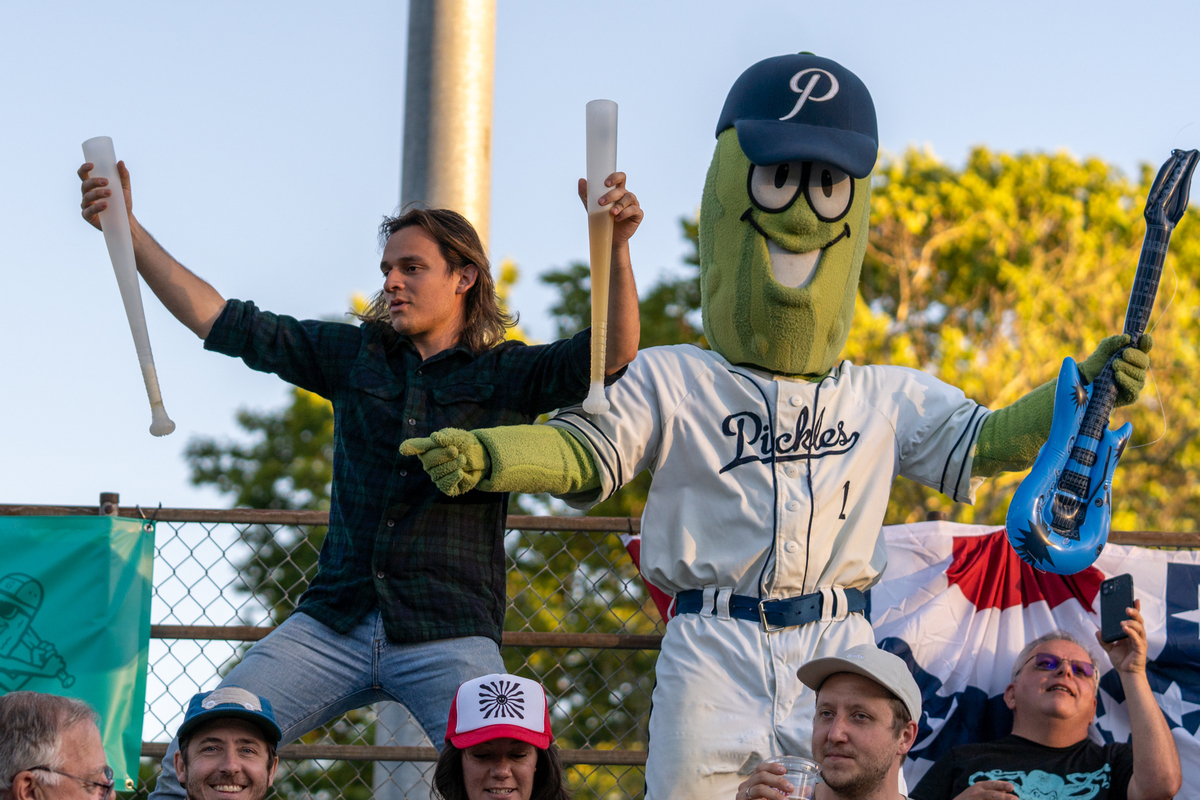 Other one of a kind promotions you can choose from include "double first name night", which is a nod to one of the team owners and former Seattle Seahawk Punter, Jon Ryan, where if you have two first names, you can register for a ticket. If you're one of the infamous Portlanders that have relocated to Portland, you can register for a ticket for their California People Moving to Portland Night. In July, the Pickles are having Portland's very own Portugal. The Man perform in the park. They also have a kick off to pride week where they ask you to show up in your rainbow best to support our local LGBTQ+ community while enjoying the ball game.
For many years now and more to come, the Pickles have been able to provide our community with joy, even if you aren't a baseball fan. For more information on the Pickles, visit their website at portlandpicklesbaseball.com.