Portland State President Rahmat Shoureshi sent a memo to Portland State staff June 21, 2018 detailing multiple administrative changes that will be implemented by the university before the beginning of the upcoming fall term. The memo did not offer details regarding financial implications or candidacies for newly vacated administrative positions, opting instead to draw an outline of changes in store for the upcoming school year.
Among the more dramatic changes was the announcement of a plan to split up the Enrollment Management and Student Affairs division, resulting in a stand-alone Enrollment Management division and the reformation of Student Affairs into a unit within the Office of Academic Affairs. John Fraire—the former vice president of Enrollment Management and Student Affairs—resigned and will be replaced on an interim basis by Sukhwant Jhaj, who has been vice provost under the Office of Academic Affairs.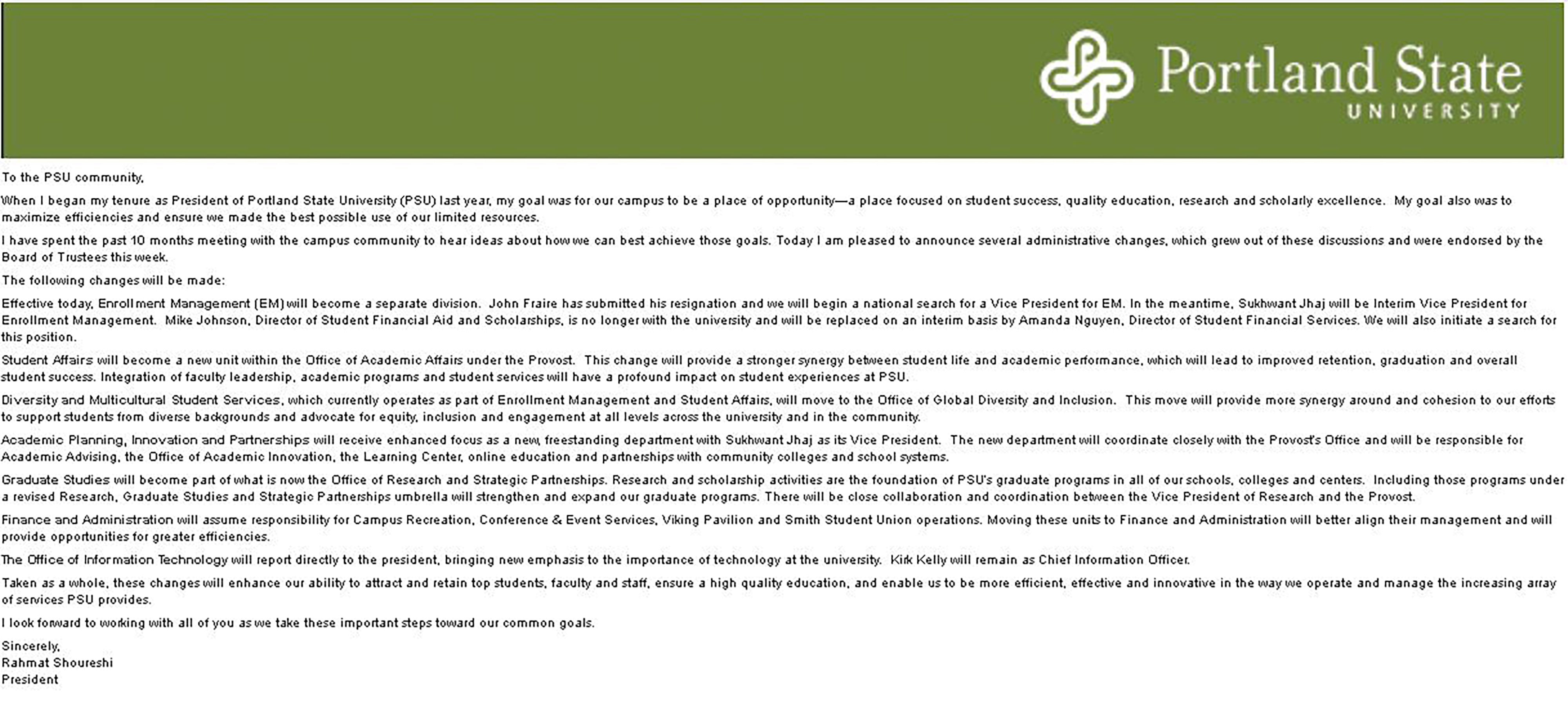 Not mentioned, however, was whether Jhaj will maintain his position as vice provost while serving as the new VP of Enrollment Management or the reasoning for Fraire's seemingly abrupt resignation. When asked for comment, a representative of University Communications simply restated Fraire resigned, and "PSU doesn't comment on personnel issues." Shoureshi's memo stated a national search for a new VP of Enrollment Management is currently underway.
Another notable staffing change in the memo pertained to Kevin Johnson, the previous director of Financial Aid and Scholarships. The memo mentioned that Johnson was "no longer with the university," without detailing cause.
The Financial Aid and Scholarships unit was situated within the Enrollment Management and Student Affairs division and will continue to operate within the newly created Enrollment Management division. Johnson will be replaced by Amanda Nguyen, the current director of Student Financial Services. No mention was made as to whether she would operate in both roles or if Student Financial Services would receive a new director.
Another administrative change announced in the memo was the decision to have the Office of Information Technology report directly to Shoureshi. It was previously operating under the division of Finance and Administration—overseen by VP Kevin Reynolds—but will now become what appears to be PSU's only individual office that reports directly to the President rather than to the head of an administrative division.
This is an ongoing story. Check back for updates.
I am a Senior in the Applied Linguistics Bachelor of Arts program at PSU. I currently work as a linguistic grader with WeLocalize, an international localization firm. I am excited to start Vanguard's brand new sports section, and I hope to cultivate it in a manner that best serves and represents PSU's various student athletes. When I am not at work or at school, I spend my time obsessing over the Portland Trail Blazers—and the NBA in general—with my wife, Maggie.