The annual International Night event hosted by Portland State's Organization of International Students on May 4 in the Karl Miller Center brought dance, music and culture from around the world to PSU.
"I like how we're able to showcase all the different cultures of our students," Preciado said. "I think it allows them to express themselves and share a piece of who they are and a piece of back home."
The first two floors of the Karl Miller Center and SW Montgomery between 6th Ave. and Broadway were shut down from 5–9 p.m. and dedicated to the carnival. Different activities, including face painting, a variety of games and a country trivia booth were set up.
"At the trivia booth, you look at some pictures of festivals that are going on in different countries, then you go look around and try to guess what country that festival is in," International Night volunteer and PSU student Fatima Preciado said. "You can earn points and get to win prizes like candy. [The street carnival] is the fun section of the event."
Inside the Karl Miller Center, the OIS decorated the railings with papel picados, also known as pierced papers. Papel picados are thin, colorful pieces of paper that have been pierced with abstract holes. Henna was also offered inside the entrance of the Karl Miller Center.
Four classrooms had been sectioned off, each dedicated to showcasing a specific region. The four regions were the Middle East, Europe, Latin America and Asia. In the Middle Eastern classroom, event-goers could learn about the culture from countries like Yemen and Saudi Arabia, while the Latin American classroom took visitors to Venezuela.
"The main takeaway is the diversity of culture," Sue Vu, OIS event coordinator and PSU international student from Vietnam, said. "We are all different and we all have different cultures, but the fact is that we are all here tonight, sharing it and enjoying other activities."
In the classrooms, international students created posters with information about the different countries. In the European classroom, people could learn about Denmark through games such as "Minute to Win It."
In the Middle Eastern classroom, there was a makeshift photo booth, as well as traditional clothing and other objects from the region.
Throughout the night, different groups demonstrated dances and music from different cultures. Portland's Bloco Alegria group was the first to perform, demonstrating their Rio-style samba music and dancing. The White Lotus Dragon and Lion Dance group brought East Asian culture to the Karl Miller Center by performing a Hok San Southern Lion Dance.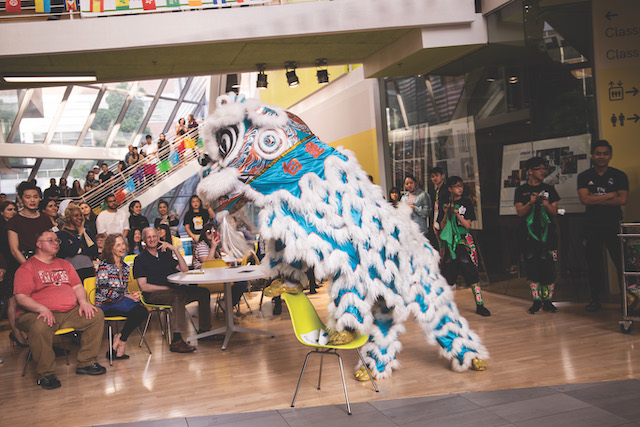 The PSU Japanese Student Society also performed A J-Pop dance, followed by a traditional dance by PSU students from the Indian Student Association. Students from the Korean Student Association also performed a K-pop dance, and the Latin Dance Club performed the salsa, a dance heavily inspired by Cuban culture, and the bachata, which originates from the Dominican Republic.
"Typically, people think Latin dances can only be performed by people who are dating or together because they seem more romantic or sexual," Burns explained. "For us, performing these pieces is not romantic; some of us don't even know each other. It's just for fun and to learn about the culture."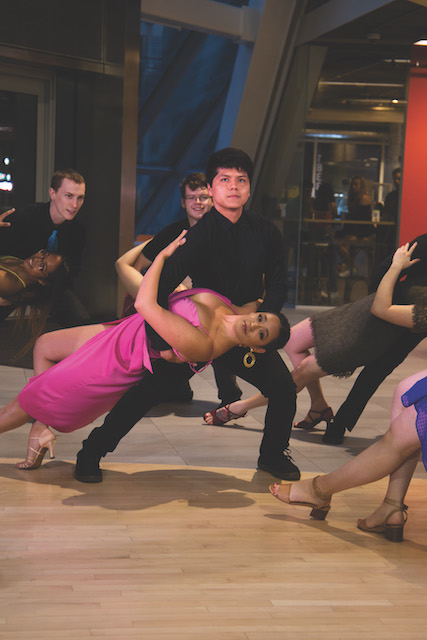 The OIS's main event of the night was the fashion show. Showcasing traditional and modern styles from around the world, international students walked down the makeshift runway in the Karl Miller Center to share a piece of their culture.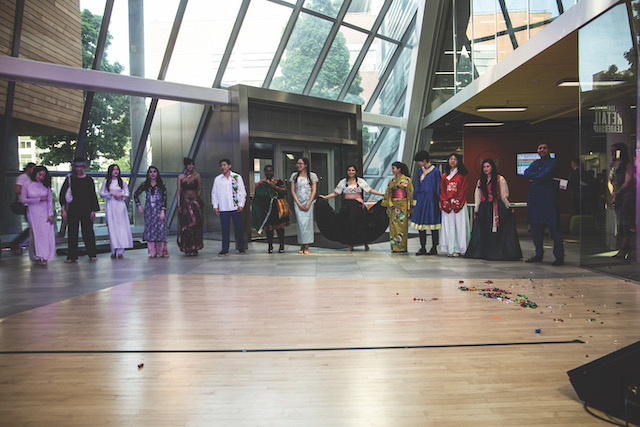 "Everybody is so different and this whole event is all about celebrating diversity and showing that we all are unique and at the same time uniting that uniqueness," Dmytro Shakalov, a PSU international student from Ukraine and emcee for International Night 2019, said. "We are unique as a planet, as humankind and we are showcasing our greatness."
"We are one, and there's a diversity at PSU that we are creating," Vu added.