Post-punks are dedicated people. Not just to music, but to the aesthetically defined yet mentally and emotionally ambiguous lifestyle that accompanies it. It takes time to develop your character into a definitive interpretation of a scene—the hair, the makeup, the ripped-in-all-the-right-places clothing—it's all enjoyably performative without being a binding fraudulent mask.

To that same degree, post-punks are just as dedicated to the bands they feel truly represent themselves and the designated qualities of the genre. Out From The Shadows is a festival and benefit that speaks exactly to that, providing an avenue for the collective praising of a music style informed by mystery and darkness. Over the course of three days, it was all exhibited through late nights of brooding basslines, the dim illuminance of red-hued lights and fog machines.

In a benefit sense, the festival's proceeds go to both XRAY.fm and a rotation of LGBTQ organizations—this year, it was Trans Lifeline—in an effort to keep music in people's ears and freedom in people's lives.

Even though OFTS is rooted in the interest of the local community, it hosts bands from around the world. That's the way festival founder Dave Cantrell likes it, also booking bands based on how well known they are.

"To some extent, the bands choose Out From The Shadows themselves," Cantrell said. "I like to include one or two kinds of dark horses each year that don't have that high of name recognition but are pretty excellent and feel they deserve a slot if they're able. That's proven to be a source of great unexpected delight."

He considers some of those dark horses to be bands such as Baltimore's Dark Narrows and Parisian solo act The Wheal, who both played the opening day after a triad of Portland bands—Walking Scarlet, Coloring Electric Light and Darkswoon, respectively—kicked off the festivities.

Dark Narrows do more of a poppish, alternative take on the classically dark genre, cleverly calling their approach "rhythm and goth." A screen displaying "PERCEPTION. DEMONSTRATION." cast a bright white light behind them as they trekked through their set, giving off an entirely opposite vibe than that of The Wheal. Up there all alone, in a full latex ensemble embellished by a fuzzy beret and fake eyelashes the size of butterfly wings, The Wheal blared pre-recorded backing beats while screaming in a combination of English and French. A big bass drum stood beside them, occasionally struck by the force of their slender wrists in between moments of vogueing and intense eye contact. They closed their set out by fiercely pulling off their latex gloves, spraying sweat all over the stage.

This is the kind of energy that first drew in Cantrell and keeps him coming back for more. He started OFTS in 2015, but his love affair with post-punk and darkwave started decades before that.

"To me, 1979 was year zero, but this resurgence and renaissance is more exciting, devotional, passionate and accomplished than I would ever believe would be possible," Cantrell said. "To have the great fortune to be allowed to experience it again in such a vivid, visceral way again is everything to me."

Words such as "vivid" and "visceral" work as descriptors for damn near all the acts on the festival's bill. Despite playing the same styles of music there was variance in what each brought to the table. Take Xibling, for example, who was second up on the second day. The duo didn't have any traditional instruments present—a pretty typical characteristic for many bands in this genre, actually—yet their set was one of the more encompassing. Vocalist Moriah West caterwauled at a deafening pitch, frenetically shrieking lyrics that, if you're in any way able to decipher them, are like some type of apocalyptic poetry. Her iridescent platform goth boots reflected light beams onto the front row of the crowd as she jostled about the stage, pretending to choke herself at random moments during their set. They were a particular crowd favorite, much like the night's headlining act Light Asylum, who didn't really have to move much at all to get a room full of closed off goths to open up.

Based on her reception, it seems that Shannon Funchess is Light Asylum, and the festival was at its highest capacity during her presence. She chose to grace the stage in almost complete darkness, most of her movement obscured by the absence of light. Funchess' voice is rich and deep like a more buttery version of Ian Curtis' from Joy Division. It barrelled over backing tracks from the project's only two releases, a self-titled full length and the EP In Tension. She held the complete attention of those who waited until the early hours of the morning to see her. Their eyes solidly fixed into the hollows of the stage, eager to catch as many clear glimpses as possible. Light Asylum doesn't perform very often anymore, so everyone wanted to take in as much of her as possible before she returned to her musical seclusion.

Witnessing that type of engagement between an audience of fans and an artist is part of what makes the arduous task of putting together the festival all worth it. Coordinating days worth of bands isn't necessarily easy, and even though Cantrell himself questions his continual participation, it's not enough to stop him from bearing the weight.

"As to why I keep doing it, there are moments naturally where I wonder that myself but the feeling one gets during those three days is in itself enough of a drive to keep at it," Cantrell said. "That may sound overblown but anyone that's been to it could attest to that. The other reason? I want to see these bands play live, and I want everyone else to experience that as well. It's kind of like a live version of feverishly sharing records with your friends."

Outside of the actual record exchange that OFTS offers, the music sharing lied within the community connection. Artists interacted with concertgoers after their sets; strangers bonded over cigarettes and protecting their crafted coifs from the rain. It'd be hard not to formulate some level of new friendship after being packed in a dimly lit room for three days, and the last day was when any spectator would be easily able to see that.

Everyone hit a zombie-like trance at this point—powered only by the fuel of booze and the figurative light at the end of the festival tunnel. Still, everyone danced. Mexico City trio Cruz De Navajas even elicited a loud "Navajas!" chant from the crowd before leaving the stage, warming it up before the Siouxsie and the Banshees-like energy of Seattle's Nox Novacula.

The venue slowly cleared out as the night crept closer to its headlining acts, but those who forged on were treated to more rare performances from locals Lunch and The Estranged. It was bittersweet to close out another year of OFTS. Many had joked about how the Tonic Lounge felt like their new home considering how much time they'd spent there over the days.

As far as where OFTS is heading, Cantrell hopes it'll grow to be a festival recognized worldwide, with factions going all the way out to Germany or Eastern Europe. It's a pretty lofty feat that, if it does happen, will take filling up goth clubs in other West Coast cities first.

In the meantime, Cantrell already has some idea in mind for next year's festival. "I'm interested in OFTS being an event that everyone involved feels they have something important invested, something well beyond what anyone's getting paid," Cantrell said. "It seems to be working out that way and that's what makes me happiest by far."

There are quite a few acts already invested in their chance to grace an OFTS stage, but Cantrell won't reveal who yet. He's keeping that information hush-hush. It'll remain in the shadows.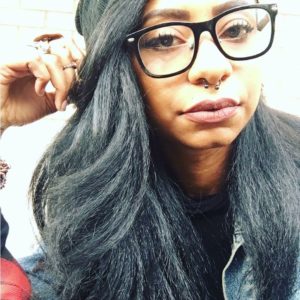 Cervanté Pope is a music and culture journalist whose work has been included in various publications around Portland including Willamette Week, the Portland Mercury and the Portland Observer, as well as a couple of creative nonfiction anthologies. When she's not tackling a giant mountain of deadlines she can be found headbanging at a metal show, advocating for animal rights or trying to scheme a way to get on Family Feud.