Patriot Prayer loses control of planned rally
On the afternoon of Sunday, Aug. 26, Pacific Northwest Libertarian celebrity Joey Gibson's appearance at a liberal anti-hate protest in Berkeley, California at Martin Luther King, Jr. Civic Center Park ended as he had feared. A crowd of anti-fascist protesters, some cloaked in black and some not, assaulted, pepper-sprayed, and hurled projectiles at the leader of the First Amendment-defending group Patriot Prayer and his sidekick, strongman Tusitala "Tiny" Toese.
Appearing on Fox News the next evening, Gibson told anchor Tucker Carlson the beatings were unprovoked. "We constantly preach love, that's our thing," Gibson insisted. Gibson and Toese lunged behind a line of police who briefly detained them before Gibson was taken to a hospital for his injuries.
Three hours prior to Gibson's run-in with his opponents, he sat down with the Vanguard to explain why he had cancelled Patriot Prayer's Bay Area "Liberty Weekend." Gibson explained that as a means of avoiding violence, he was ready to move on to other forms of engagement with "the other side."
However, Gibson's questionable personal connections and failure to retain key allies, together with a chaotic weekend evading the press and confusing his followers, have further convoluted his public image.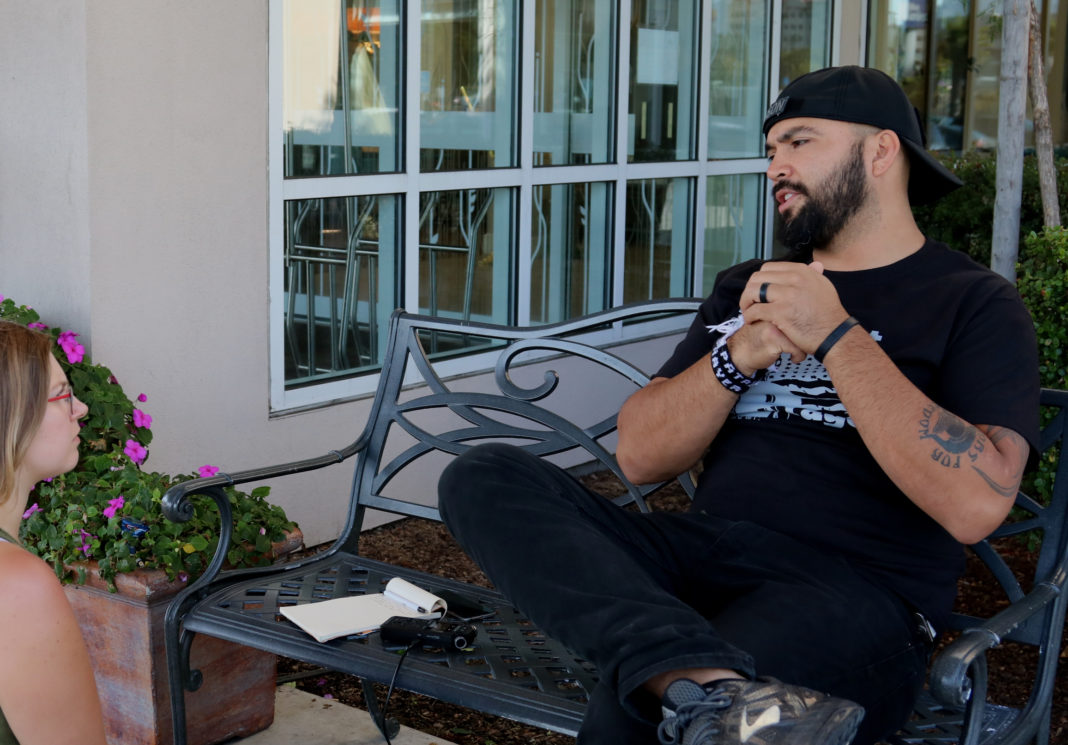 Chaos in the Bay
Friday afternoon before Gibson's "freedom, spirituality, unity, peace, and patriotism" rally at Crissy Field Beach, an open area on the bay controlled by the National Parks Service, Gibson cancelled the event on Facebook and changed it to a press conference in downtown San Francisco's Alamo Square.
Although Crissy Field, which is on federal land, would have offered more police protection, Gibson said he was concerned "poor planning" on the part of law enforcement had put his supporters at risk. "The concern wasn't a lack of police presence, the concern was a trap," Gibson said.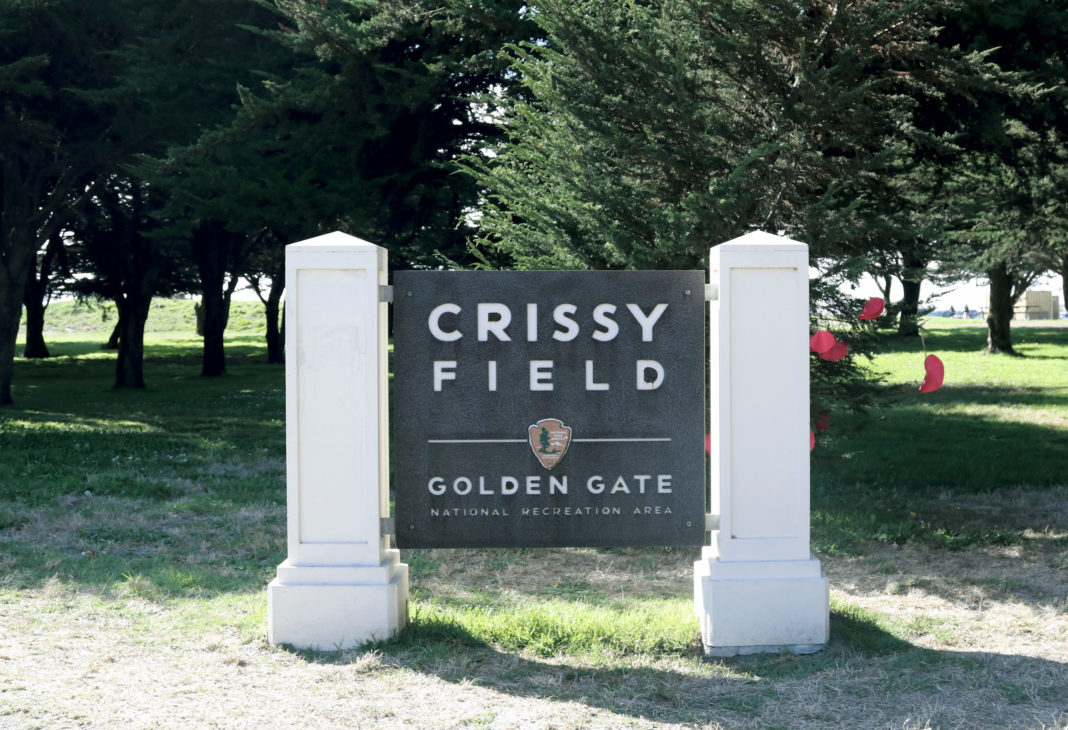 Gibson claimed that police told him they could cordon off a portion of the park for 50 of his supporters "and then everyone else would be 50 yards away just mingling." Gibson then claimed police told him he and other organizers could go into the crowd and choose supporters to wear wristbands granting them access into the fenced-off area.
San Francisco police and the Parks Service were not available for comment over the weekend, but PP's publicly available permit details do not mention anything about a 50–person limit.
Gibson then said he cancelled the Alamo Square press conference because "police shut it down." A thousands-strong counter-protest assembled and then marched from Alamo square Saturday afternoon, however, without a showing from PP. The celebratory march, which resulted in no arrests, concluded in San Francisco's Mission District with salsa dancing, poetry, and social justice-themed rap. Meanwhile, Gibson held a short press conference in his hotel room then popped up in random spots around the city.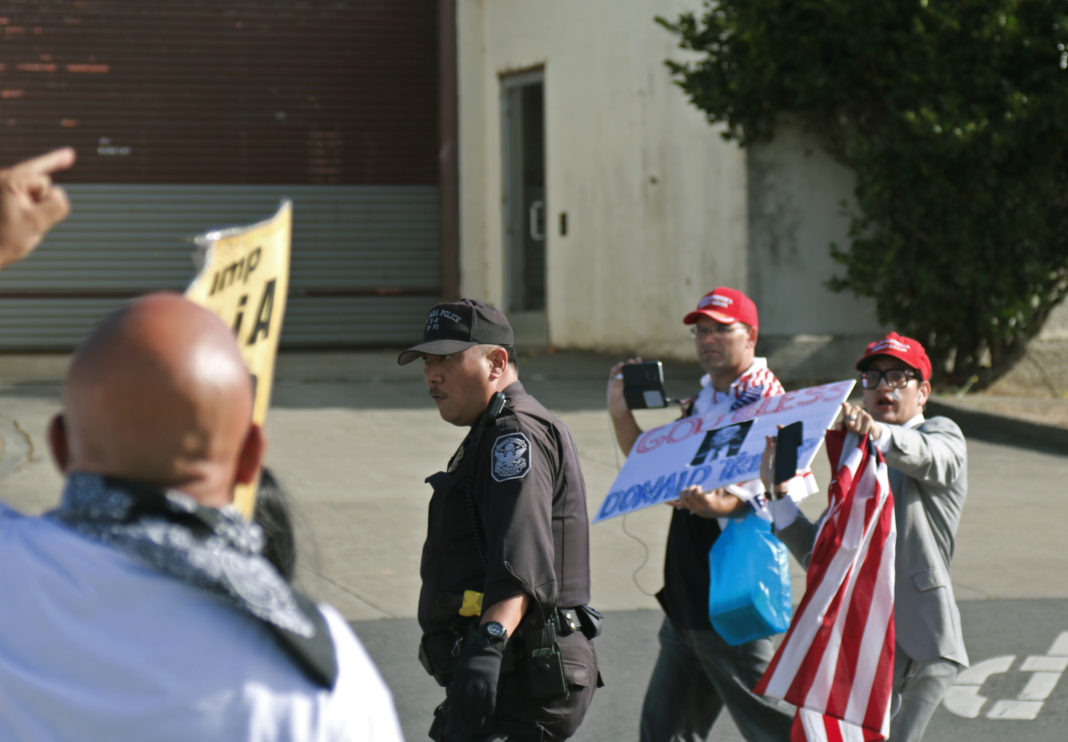 Gibson said the "rhetoric" promoted by California Congresswoman Nancy Pelosi and San Francisco Mayor Ed Lee caused "ninety percent of the city" to think he and his supporters were white supremacists. Gibson and a few supporters reappeared at Crissy Field later Saturday evening, where they were antagonized by a counter-protester whom the Vanguard witnessed wearing a bedazzled American flag baseball cap and screaming profanities at "patriots."
When Gibson got a chance to talk to his opponent, however, he said she gave him and Toese a hug. "She ended up apologizing to me and Tiny because she was hearing us speak and she realized she truly thought we were white supremacists," Gibson said. "She said she was so mad at the mayor and so mad at Nancy Pelosi because they said that," he added.
Uniting "moderates"
In order to avoid violence in the future, Gibson said community-led forums or town halls to bring "patriots" and liberals together were his "next step."
"We can't just go from city to city just rallying," Gibson said. "Even the word 'rally' I don't like because it just sounds like getting a bunch of people who think the same way to be like, 'let's go get 'em,' and so I want to get away from that."
Before Gibson encountered violence in Berkeley, he told the Vanguard he wanted to be mobile and talk to small groups of people like he had on Saturday. "That's just kind of the goal today," Gibson said. "To just talk to people face to face [and] let them make judgments based off of that."
Gibson said his goal now is to "unify moderates," a far cry from his early theatrical YouTube videos in which he called for conquering the West Coast and "turning blue states into red states."
"The moderate left, they're so silent on so many things because they're afraid," Gibson said. "They're so vocal on racism, [but] they need to be more vocal on fighting hate in general. I really feel like if we can get a coalition of moderates that speak out together in unity, then that would really get rid of the extremists."
"Extremists," in Gibson's mind, refers to, in part, anti-fascists, or antifa, who "bloc up" in black clothing, antagonize police, and sometimes scuffle with Gibson's supporters.
Gibson also said rallies are an important method for drawing in and "exposing" antifa counter-protesters. According to independent reporter and eyewitness Zac Conklin, on Sunday afternoon in Berkeley, Gibson and Toese followed a group of black-clad antifa marchers into MLK park, 3-5 minutes after police had decided to retreat because they believed antifa was provoking them.
Although peaceful counter-protesters made up the majority of people in MLK park, Toese, who wore darkened ski goggles and football shoulder pads, and Gibson, wearing a "Join or Die" baseball cap, followed after antagonistic antifa first.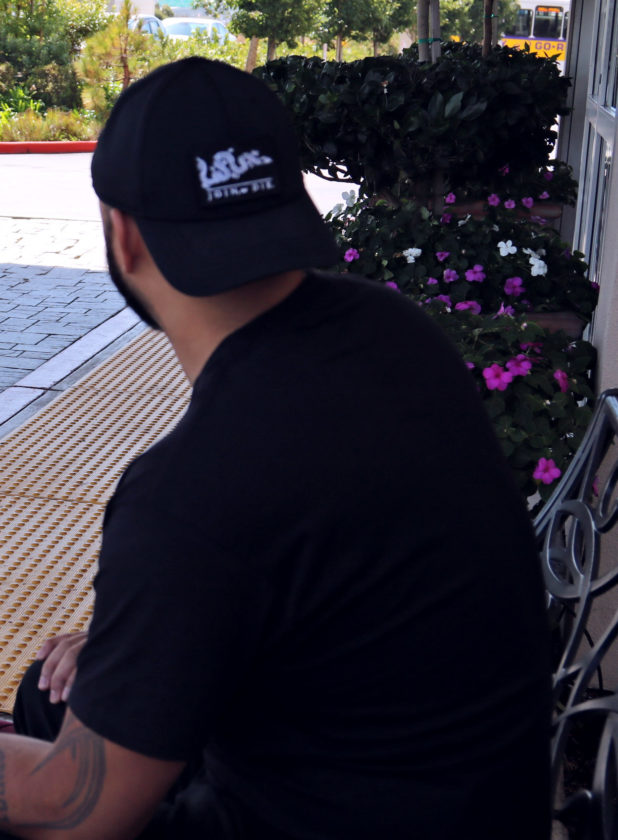 Gibson's assault "played into the false narrative that some conservatives have spun" about liberal cities shutting down free speech, Berkeley mayor Jesse Arreguin told the Associated Press on Monday.
A peace promise before next time
Gibson has his own chronic trouble with extremists. His rallies have attracted documented white supremacists, skinheads, and neo-Nazis. Gibson's following of white nationalist Identity Evropa members, of whose former CEO Nathan Damigo was allegedly mostly responsible for the white supremacist gatherings in Charlottesville, have given him the most trouble.
Gibson finally publicly denounced IE after a June 30 march in Portland. Attendees of Gibson's rallies not necessarily affiliated with ideological groups have also instigated violence against counter-protesters at these events.
Gibson's message of uniting moderates seems to come from the "Promise of Peace" Gibson signed on Aug. 18 with James Tolson, leader of the nonpartisan social justice organization Concerned Humans Against Poverty. On Sept. 10, both Patriot Prayer and CHAP will be holding separate rallies, in Vancouver, Washington and Portland, respectively. Gibson's rally expects to invite even more violence than at Berkeley or in Portland on August 6.
The peace promise, along with a commitment to nonviolence, holds both parties to keeping "hate speech" out of their rallies, as well as "any form of hate groups" that would use such speech, according to a livestream Tolson recorded about the document.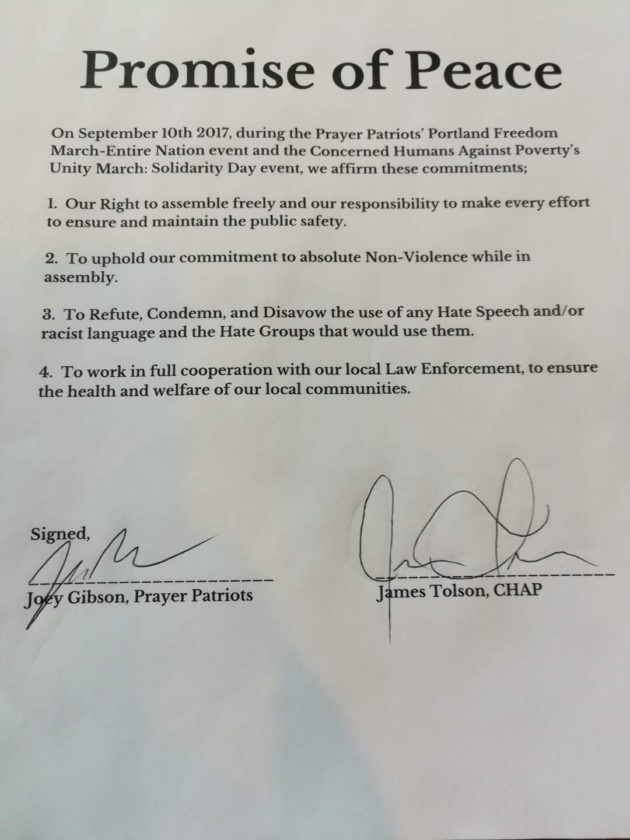 "I'm not giving Joey Gibson a pass," Tolson said on video. "Please understand that my commitment is to nonviolence, not complacency," Tolson added in a Facebook message to the Vanguard. "Nonviolence is not a weakness. If anything, this 'Promise of Peace' will serve as a tool of accountability."
A commitment to eradicating hate speech from Gibson's event could be problematic, as PP champions the First Amendment. Hate speech, according to the American Civil Liberties Union, is still protected under the Constitution.
A profile of Gibson from Crosscut.com summarized white supremacy expert and former Portland State professor Randall Blazak as saying, "Although Gibson and others may purport to hold events in the name of free speech, they often don't really care about the free speech of, say, Muslims or Black Lives Matter."
Though Gibson does not allow the Hell-Shaking Street Preachers, known for antagonizing attendees at Portland and Seattle Pride parades, Portland Brew Fest, and a Southeast Portland mosque, to "preach" at his rallies, their verbal abuse could classify them as a "hate group that would use" hate speech, under the peace pledge's terms.
Gibson acknowledged that although the street preachers' message is "different" from his own, he also believes "they're good people."
Losing allies
At Gibson's rally on Aug. 6, a notable group of men in neon yellow shirts and leather biker vests were missing. Toese, who normally wears such garb to Gibson's rallies, appeared in athletic clothes.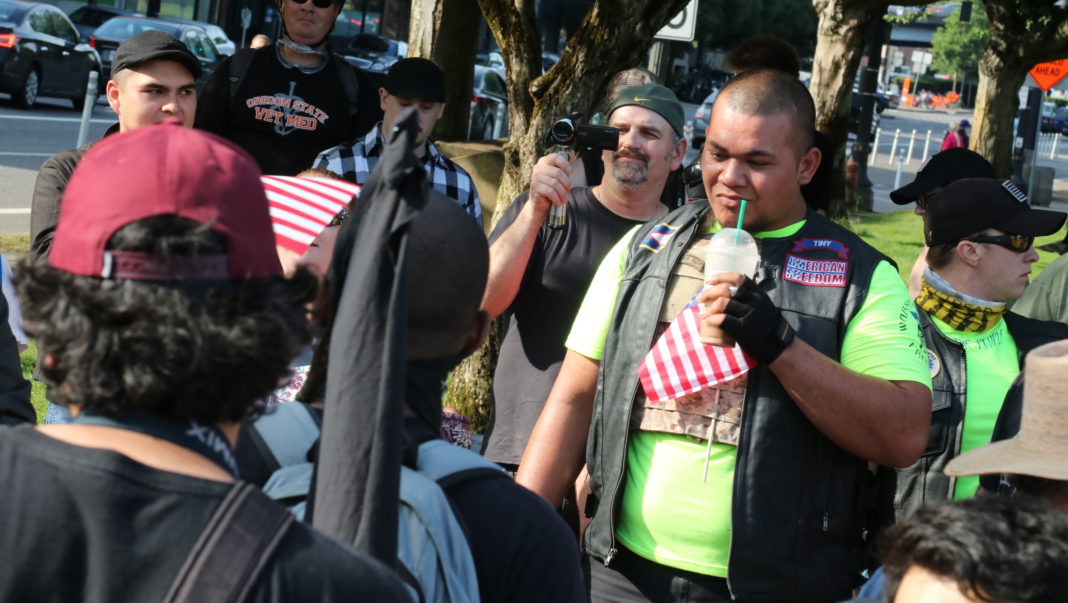 David Fry of Tacoma and John Beavers, an independent Trump campaign activist from rural Washington, are founders of the motorcycle group American Freedom Motorcycle Association, which has provided security for PP since its inception.
The two have quit attending Gibson's rallies. Citing a noticeable uptick in violence "on both sides" and Gibson's failing leadership, "We refuse to go to them," Fry told the Vanguard.
Fry said he was sick of people calling PP followers "Nazis" and "white supremacists." However, he believes Gibson has not painted a clear picture of what he stands for. "It seems like it's shifted into shares, likes and views," Fry said. "I don't even watch [Gibson's videos] anymore; that's how far off he's gotten from me. We had one of our core women leave after Seattle because a guy got in her face with a camera yelling and screaming and no one came to protect her."
Fry and Beavers said Gibson has been understanding of their decision to leave although, "He's probably not real happy because his security [team] went to shit," Fry said.
A few days before PP got into violent brawls at the Aug. 6 rally in Portland, "Beavers said an antifa activist somehow got his phone number and called to convince Fry and Beavers to provide security for the march. "It made me feel like crap because they called me three days prior and said because you're not showing up here people will be hurt. Because you're not there," Beavers said. "Then people got hurt. It made me feel bad."
Fry has told The Vanguard before that WFF had been in strategic contact with antifa members. On June 30, Fry said an antifa activist warned PP that local skinhead Raul Gonzales was planning to come to the march.
Between brief but ugly brawls in the midst of PP's march on the Portland waterfront on June 30, Fry passed a marijuana joint to antifa marchers. Although Fry and Beavers swear only to use violence in self-defense, Beavers said he is not interested in putting himself in a situation to fight antifa protesters.
"I didn't get into this movement to beat kids up, especially ones that don't have a choice," Beavers said. Beavers added he has talked to some antifa activists who allegedly come from broken homes and will be "put out on the streets" if they do not fight right-wing activists. Beavers said he comes from a broken home as well, and he "got into this to protect people that couldn't protect themselves."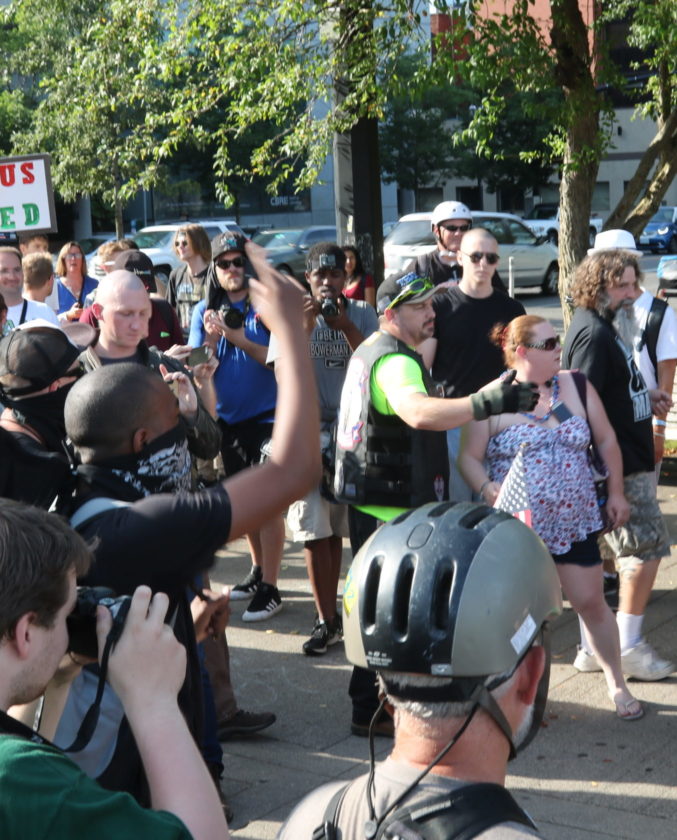 AFK, now referred to as Warriors for Freedom in PP events, provides security for conservative events, including concerts, all over the country. Fry and Beavers founded the group as the AFMA, but have distanced themselves from the now-AFK leader because he has allegedly gouged members for money and adopted its new name. AFK and WFF are allied with the Three Percenter and Oath Keeper militias, which also provide security for events and have been seen assisting police in arresting counter-protesters.
While providing security has never implied endorsement for a particular group or event, in Fry's opinion, having militia present at rallies might invite anxiety and mistrust. The Three-Percenters and Oath Keepers traditionally show up to rallies in bulletproof vests and helmets. "Our guys showed up with the yellow shirts. We weren't all armed up," David explained. "And some of the Three Percenter people are my friends, but when you show up dressed like that, the other side instantly takes offense and instantly is on guard and wants to fuck you up for it."
Fry made it clear that encouraging violence "on both sides," however, was a problem. Similar to Gibson's complaint about SF Mayor Lee and Pelosi spreading "false" rhetoric about PP, Fry said antifa's warning the public of "neo-Nazis" coming to town only stirs up more panic. Short of beating rally attendees up, Fry said there is nothing PP can do to keep out the "two or three" neo-Nazis that like to attend Gibson's rallies.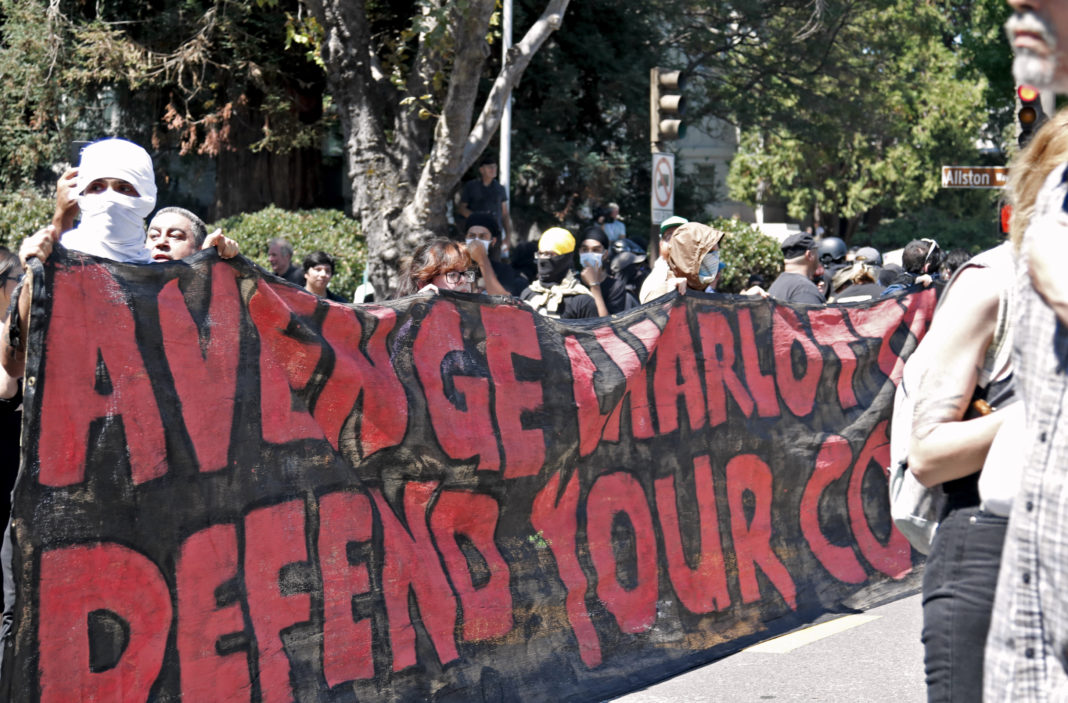 Double standards
While Gibson and his supporters denounce the narrative that PP is a white supremacist or neo-Nazi organization because it stirs up aggression, Gibson tends to direct public attention to the violent minority of counter-protesters that oppose him at his events.
At the same time, however, Gibson repeatedly brings violent and controversial figures to the face of his movement.
On June 4, white supremacist celebrity Tim "Baked Alaska" Gionet guest-spoke at Gibson's Terry Schrunk Plaza Rally in Portland. Later that day, Gionet was filmed reciting the "14 words" alongside Identity Evropa's then-regional coordinator Jake Von Ott.
The "14 words" is a white supremacist phrase derived from Hitler ideology. On June 30, Gibson indicated he was bothered by this video and said he might make a public statement about it. He never did.
Gibson said giving Gionet a platform is something he completely regrets. "Not only is [Gionet] a white nationalist," Gibson said, "he's beyond that. He's not a nice person, he's not a good person, he's rude to people, [and] he's an asshole, so those are the people that I want to distance myself from."
This weekend, however, Gibson was accompanied by Kyle "Based Stickman" Chapman, who appeared on Gibson's "press conference" during the San Francisco counter-protest this weekend. Chapman became popular for a viral video of him beating an antifa member in Berkeley at a rally in April. Chapman has multiple felony convictions and was released on a $135,000 bail for felony possession of a billy club in March, just before "Liberty Weekend."
"I get so much blowback for being with [Chapman], but it's because I love him and I believe in him," Gibson said. He added, "He's not moderate enough. He does believe in freedom, he does have a lot of hatred towards antifa and commies, and so that's something he can hopefully work on and get better at, but I do believe in my heart that he's a really, really good guy."
On June 14, ten days after Gionet spoke in Portland, Chapman posted a public photo on Facebook with Gionet at a Proud Boys meetup in California. He, Gionet, and a few other men flashed the "OK" symbol, a popular alt-right hand gesture. Chapman currently signs off many of his social media posts with "Deus Vult," a term from the Crusades made popular by Islamophobic alt-right figures.
Gibson's message hijacked
Gibson said he agrees with Fry's opinion that his movement has been "hijacked" by right-wing extremists. As long as he holds rallies and marches, however, Gibson has little power to keep extremists from the limelight. The more national and sensational press Gibson gets from "exposing antifa," the less incentive Gibson has for moving away from protest activism.
"If your message attracts [extremists], you need to take a look at your message," Tolson said of PP on his Facebook video. "I don't think [Gibson] is a bad guy. I think he's surrounded by people with agendas…who want to push those terrible, terrible agendas."
"All hate groups aren't on the right," Tolson added. "We've got to reckon with this concept that all hate groups aren't on the other side." In order to eradicate extremism on both sides, Tolson explained, he and Gibson cannot be "complacent" about violence or hate speech on the left or right of the political spectrum.
"If [PP] gets out there [on Sept. 10] and is complacent in allowing white supremacy groups and hate groups a platform, then their credibility is gone," Tolson said.
If Gibson meets the agreement of his peace pledge, "We push him further," Tolson concluded. "The further we can get moderate groups like that away from extremists, the better it is for us all."
PP organizers have planned the Portland Freedom March for Sept. 10. CHAP hosts its Unity March and Solidarity Day on the same afternoon in Vancouver's Marshall Park.
[Aug. 31 4:46 p.m. Description of CHAP updated for clarity.]
[Updated Sept. 2, 1:00 p.m. This article originally reported Gibson called Beavers before the Aug. 6 protest. It was actually members of antifa who asked Beavers to attend with security. This has been updated for accuracy.]