The Indian Student Association at Portland State celebrated Ganesh Puja on Sept. 29 in Hoffman Hall. Per Hindu custom, guests removed their shoes before entering the event, which began with a prayer to Ganesh—the elephant-headed god commonly associated with good fortune and prosperity.
The prayer began as students and attendees gathered around the Ganesh idol situated on an altar while reciting prayers and burning incense. On the next table was a display with a separate arrangement, which was said to symbolize the balance of life.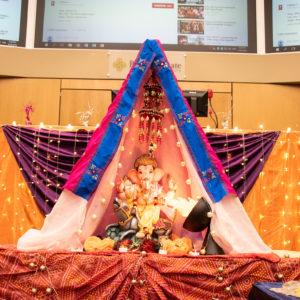 Most students wore traditional clothing, with a majority of men and women wearing kurta and churidar; however, a few women also wore dresses known as anarkali.
Yash Hiremath—president of the Indian Student Association—made his opening speech, stressing the importance of caring for those in the community. This was evident with the support shown for a newly admitted Indian student recently hospitalized at OHSU. The student in question fell ill just 10 days after arriving in the United States to attend PSU, and though Hiremath did not know them beforehand, he assisted the family during this difficult time. Guests attending the celebration also passed around a poster with messages of support.
Afterward, volunteers served food including two curries—one veggie and the other with paneer cheese—veggie biryani and naan. A dessert made of milk and almonds known as kalakand was also passed around following the main meal.
Soon after eating, the room went dark as guests danced to songs such as "No Problem" and "Kolaveri" by Dhanush, "Pakka Local" by Geetha Madhuri and "Maari Thara Local" by Anirudh Ravichander.
While some historians believe the holiday possibly has origins in the Satavahana Dynasty (271 BCE) according to India Today, Ganesh Pooja is deeply associated with India's struggle for freedom against the British empire starting in the late 1800s. Because Ganesh was honored across the diverse culture and various castes, he became a popular figure to unite under a single bond.
Ganesh Puja has remained a major celebration across India to this day.