United States Attorney General Jeff Sessions is in Portland today to discuss policies concerning sanctuary cities, a term used to describe a city that does not fully cooperate with federal immigration policy. Portland is one of those cities.
Sessions' visit has been met by hundreds of protesters bearing signs of support for immigrants and blaring chants like, "Aquí estamos, y no nos vamos!" ("We're here and we're not leaving!")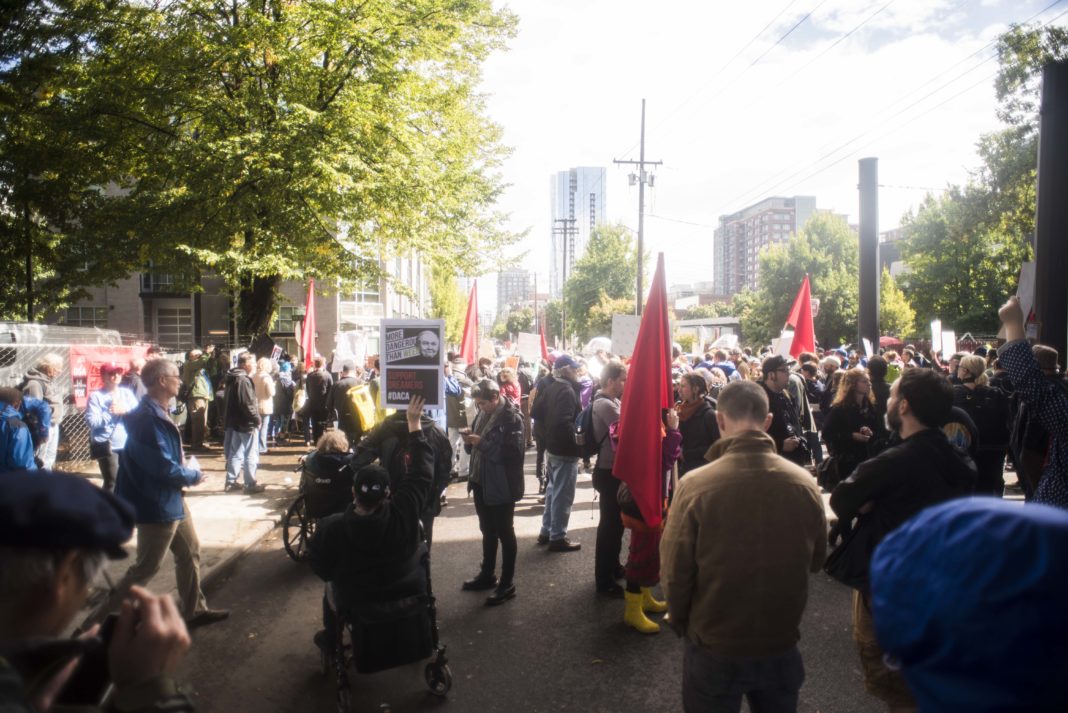 Sessions has been widely criticized for his involvement in the end of DACA, or Deferred Action for Childhood Arrival. The Obama-era program gave hundreds of thousands of immigrants brought to the U.S. as minors the opportunity to legally work or go to school.
"Getting rid of young people who are immigrants is probably the biggest mistake this guy can make," said Jeremiah Frericks, a Portland resident who raced down to the protests as soon as he saw it on the news. "[The U.S. was] founded on the idea of people coming here to seek the American Dream."
The crowd demographic varied dramatically, from older couples to masked antifa, but their message remained the same. "The people, united, will never be divided," they chanted.
Diane Grover, a Portland State Alum and current immigration attorney, was on her way to meet a client to discuss his green-card when she was stopped by yellow tape and a group of protesters.
She said she's "with the people" of the protest and supports their message. When asked how she and her associates are feeling under the newest administration and its immigration policies, she replied, "It's crazy, it's exhausting. We're sick to our stomachs."
Local activists and political-hopefuls were out to show support and express frustration with the current immigration policies. "We just really wanted to make sure that Sessions knows that he's not welcome here," local activist Gregory McKelvey said in an interview with Eder Campuzano of The Oregonian.
While inside, Sessions spoke about Portland and its woes, listing off violent crime statistics. "The fundamental duty of this government is to protect the safety and the rights of its citizens. President Trump is a law and order president," he said to Federal Law Enforcement Authorities.
He went on to state the administration's goal to "back our police" and "reduce crime in America." However, he said, "some jurisdictions have undertaken to undo our immigration laws through so-called 'sanctuary policies.'"
Sessions said a key issue with the sanctuary city policy is, "police are forced to release the criminal alien back into the community without regard to the seriousness of his crimes or the length of his rap sheet." He went on: "Think about that: Police may be forced to release pedophiles, rapists, murderers, drug dealers, and arsonists back into the communities where they had no right to be in the first place. They should, according to law and common sense, be processed and deported."
He continued with stories of gang violence and cases where crimes were committed by illegal immigrants.
"I urge the city of Portland, the state of Oregon, and every 'sanctuary' jurisdiction to reconsider," Sessions said.
Read his full statement here.