The Portland State Indian Student Association hosted their annual event Sanskriti, which translates to "culture" in Hindu, a celebration of Indian music, food and culture.
The event was held on May 11 in the Smith Memorial Student Union Ballroom as a way to share Indian culture with the rest of campus.
Sanskriti coordinator and emcee Adya Pandey started the night by saying, "This evening, let's forget everything about the assignments, projects, internships, tests and exams and simply have one night to enjoy our culture."
The ISA provided traditional Indian food, including curry, vegetable biryani, naan bread and yogurt. Biryani is a traditional Indian dish served with rice, topped with either chicken or vegetables. Rhaita, which is the yogurt served at Sanskriti, is traditionally mixed into rice in Indian cuisine.
Event-goers could get a henna tattoo or take photos in front of one of the several photo booths ISA coordinators created while they waited for the other performances to begin.
"We're trying to show all of Indian culture with the lights and the dances," ISA coordinator Kirtan Mehta said. "We want to show our Indian music and our Indian culture. How we dance, how we play our music, how we enjoy our music. We are doing a lot of traditional Indian things to share them with people."
Individuals and groups registered to perform at Sanskriti. There were 12 dance and music performances total. The Portland Abhinaya performed three times throughout the night, with a classical Indian dance solo followed by a classical group performance and a group folk dance.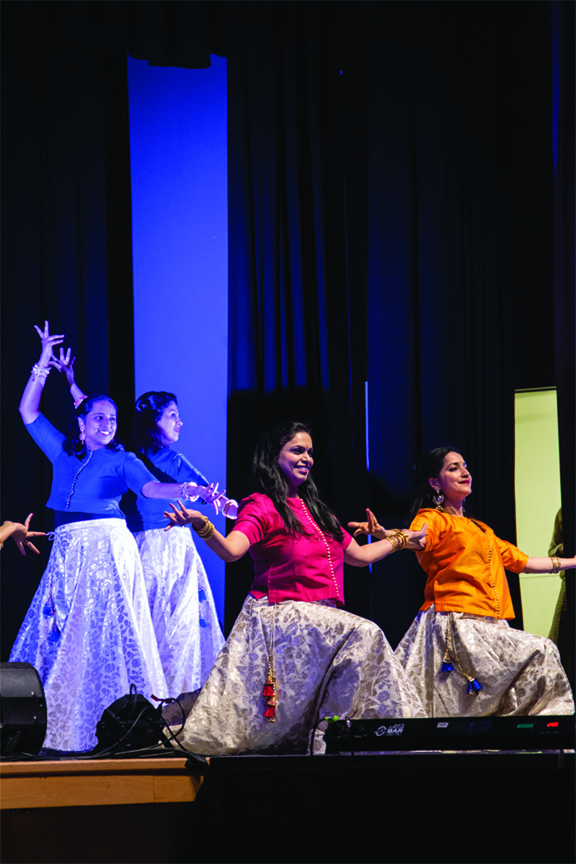 International PSU students originally from India performed several dances, including a hip-hop number that was choreographed to Indian music. The hip-hop performers were all studying computer science or electrical engineering at PSU. Bollywood choreographer and dancer Deepa Barve also performed.
"Dance is one of the most sacred art forms I believe," Pandey said, commenting on the importance of dance to Indian culture. "It goes much beyond shaking your arms and legs. It is a way to express your emotions and feelings without having to say anything. In the ancient times, dances were considered to be the messages of God."
This year, the Sanskriti event included a sangeet celebration, which happens a few days before a traditional Indian wedding. The celebration is intended for the families to commune and get to know each other before the bride and groom are formally married.
"The premise of the sangeet is not just to have fun but also for the families to come together and familiarize themselves with each other before the big wedding day," Pandey explained. "Nothing connects people better than good food and music, so the relatives and friends of the bride and groom choreographed these dance numbers to perform for the couple."
The families of the future bride and groom each performed a dance for the crowd in celebration of the wedding to come.
"Sanskriti has always been a platform for the Indian community to come together and showcase our culture," Pandey said. "It's a time to remember everything that is wonderful about our homeland and to share that spirit with everyone."
Many attendees wore traditional Indian clothes. For men, this meant kurtas or pajamas. Women wore sarees, lehenga cholis, panches or lungis. India is a diverse country, so what people consider traditional depends on where in the country they are from. Mehta said "females have a lot of options for traditional clothes" in comparison to men.
The ISA wrapped up the night with a fashion show, where PSU students and ISA representatives modeled the wide variety of Indian clothing that is worn throughout the country.
"People from different states wear different clothes depending on where they are from," Mehta explained. "Every person from a different state has their own idea of traditional clothes. It just depends on where they are from."
---
Correction:
Vanguard misattributed the name of one of the event emcees. Amulya Iruvanti was originally attributed. The correct attribution is Adya Pandey.